FullSEO case
Region Of Promotion
Turkey

+ 1388%
traffic from organic search

7354
keywords on TOP-10

+ 32689
increase in visits per month
Client Profile
Visa Company is a Turkish company that provides online application services for passports, Schengen, U.S., and many other types of visas. It has multiple offices in major Turkish cities, like Istanbul, Ankara, Izmir, Adana, etc.
Start of Promotion
An SEO campaign for "Visa Company" started on 02/03/2019. First of all, we analyzed the site's presence on Google and checked it for internal errors. Registered on 11/31/2017, the domain name was quite fresh. There were over 2,000 keywords in TOP-100 and more than 200 ones in TOP-10, but they covered low search volume, and as a result, they didn't bring much traffic to the site. Hence, the average daily traffic within the period of November 2018 – January 2019 was 60 visitors.
It was not for nothing that we analyzed the November 2018 – January 2019 period. The Search Console tracker was added to the site on 11/6/2018. No other traffic analysis tools had been used before, so this was the only period we could rely on as the source of data before the Semalt SEO campaign. We recommend adding Search Console and Google Analytics counters as soon as possible. Otherwise, you risk missing important information about your domain's health problems, traffic data, top-visited pages, and many other aspects that can be analyzed and used to improve your site's visibility on Google.
The website had a lot of keyword-filled content. Many pages were already indexed and ranked by Google, so their positions went up from the very beginning of the SEO campaign.
We started with an SEO audit. First, we did keyword research and performed a domain analysis. We found out that the website was well-structured, with SEO-friendly meta tags and a separate landing page for each visa service.
However, it had duplicate content, which was the biggest problem. "Visa Company" created several websites that had similar content (many online businesses tend to do so to expand their coverage). That is why there was another site we had to deal with. In addition to the same phone and address, its design, page structure, and content closely resembled those found on the main website.
According to Google's guidelines, a business should own only one website. Having a site clone may bring about a detrimental effect on the rankings of both websites.
To avoid such an unwanted issue, we recommended the client to remove or replace duplicate information. And the results were huge. After changing contact details, the traffic to the Visa Company's website has doubled.
Other issues detected during our SEO audit called for:
Removing the "| Vize Randevu - Vize Başvuru Merkezi" keyword from title tags
It's a common mistake to add main keywords to all web pages. For more tangible SEO results, however, you're better off having each of them optimized for a particular keyword pool. Adding your main keyword to all pages may confuse Googlebot that will consider all of them as relevant to it.
Dealing with duplicate pages on the subdomain
When analyzing the website, we detected several copies of its main pages on the subdomain. The thing is, subdomains are treated as different resources by Googlebot. And if you use the same content, this may result in duplicate issues, as if you have stolen it from other domains.
Deleting 404 pages
Almost all multi-page websites have 404 error pages. When deleting outdated ones, webmasters often disregard removing links to them from other pages. As a result, those with 404 codes can rest in the Google index forever. As part of our FullSEO services, we crawl websites and prepare lists of all pages that have links to 404 ones.
Creating meta tags and SEO-friendly content for the homepage
Meta tags are useless if there's no SEO content on a homepage. Sure, the Visa Company's website was not empty, but existing text blocks had no SEO keywords in them. Those are crucial not only for the homepage but all high-priority pages to encourage ranking growth and ensure the effectiveness of the SEO campaign.
Blocking filter pages from being indexed in robots.txt
Another common mistake is related to search boxes.
They definitely improve usability, but they can also lead to the indexing of multiple search result pages. To avoid this, you should prevent them from being crawled as soon as you make your website visible for search engines. You can easily block the needed pages in your robots.txt or by adding noindex tags to them.
Keyword Promotion
To bring more traffic to the website, we decided to promote several keyword groups:
ispanya vizesi
italya vizesi
almanya vizesi
Although these keywords have substantial search volume and are highly competitive, we've helped the website rank for them, thereby bringing a dramatic increase in organic traffic.
Country + visa + additional information
avusturya vize ücreti
suudi arabistan vize ücreti
almanya vize dilekçe örneği
hollanda vize evrakları
These are low-competition keywords with medium search volume. Some of them are rather informational than commercial, yet they are still relevant to the site. When used wisely and paired with high-quality content and links to target pages, they can help convert more users into customers.
Low search volume informational keywords
tam tekmil vukuatlı nüfus kayıt örneği
tam vukuatlı nüfus kayıt örneği vize
At Semalt, we often rely on the strategy of low search volume keyword promotion. The positions of these keywords prove to grow faster than those of high search volume ones, meaning that they can reach TOP-1 - TOP-3 in just 2-3 months.
For our client, this strategy has also brought great results. As the website already had many low search volume keywords ranked in TOP-100, their positions have gone up once we placed backlinks to them.
See the detailed keyword position comparison in the Results section below.
Results & Conclusion
The promotion campaign with Semalt started on February 3, 2019, and it lasted 1 year. To draw the clear bottom line, let's analyze the website's performance for the January 2019 period (before Semalt) and for January 2020 (after 10 months of Semalt SEO work).
In January 2019, the website's organic traffic was 2,355 visitors per month, as opposed to 35,044 in January 2020. Owing to Semalt's backlinks and SEO improvements, its organic CTR has increased by almost 14 times!
Plus, way more keywords now rank higher:

+ 306 keywords in TOP-1

+ 1,285 keywords in TOP-3

+ 7,150 keywords in TOP-10
Now we continue managing the general promotion campaign for the website, with a new focus on improving rankings of high search volume keywords.
We appreciate that Visa Company trusts us with its main website and other SEO projects. We're looking forward to launching new ones together!
SSL & redirects fixes
Fix URL Duplicates & Structure Optimization
URL errors, URL redirects, Hreflang
Indexation Improvements
Sitemap, Robots.txt, Cache, Canonicals
Website Security & Health Improvements
Page Speed Optimization
Mobile-friendly Optimization
On-Page Optimization
Title, Description, H1-H6, ALTs
Structured Data Optimization
Content Optimization
Writing & rewriting SEO texts
Local SEO Optimization
Google Business, NAP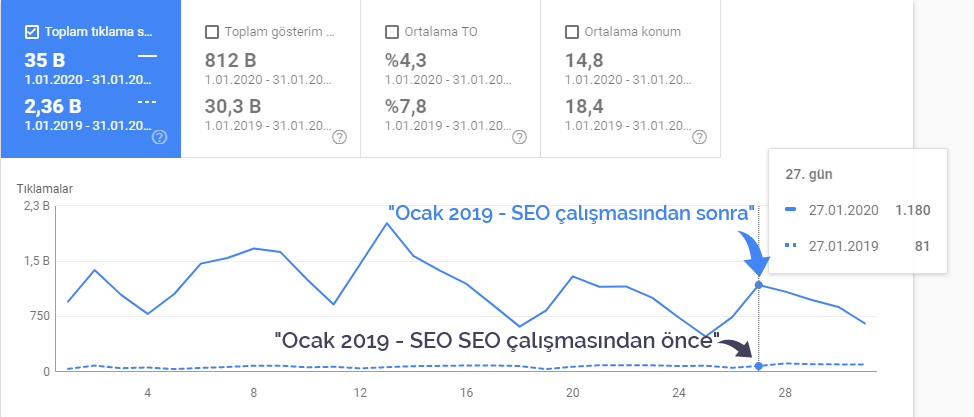 Results
| | Before | After |
| --- | --- | --- |
| Visitors per month | 2355 | 35044 |
| Top100 keywords | 2625 | 27667 |
| Top10 keywords | 229 | 7354 |

+ 1388%
traffic from organic search

7354
keywords on TOP-10

+ 32689
increase in visits per month
Leading positions in Google
31 Jan 20
Keyword
Search Volume
Before
After
almanya vize dilekçe örneği
210
31
1
avusturya vize ücreti
480
82
4
hollanda vize evrakları
480
43
7
irlanda vize ücreti
260
61
3
italya vize dilekçe örneği
1900
22
2
italya vize evrakları
590
39
4
romanya vize ücreti
720
42
5
suudi arabistan vize ücreti
210
30
2
tam tekmil vukuatlı nüfus kayıt örneği
1000
31
4
tam vukuatlı nüfus kayıt örneği vize
320
29
3
vize başvuru merkezi
880
38
4
...and many other keywords
I will gladly make a free evaluation of your project
Andrew Timchenko
Head of Customer Success Department