SEO is a buzzword. It's only three letters long, yet it has so much meaning behind.
Not so many beginners know what these letters stand for. Even fewer of them realize how game-changing it may be to do SEO with the right agency on their side.
Let's dig a little bit deeper to translate the SEO term into understandable words.
SEO (or Search Engine Optimization) is a way of telling, "Hey, here's my website, and it should be on the first page of search results." It's a range of actions to increase your search engine traffic and prove that your website deserves to be at the top.
To get a handle on this, take Google (what else when it is so damn popular?). They say it receives something like 4 billion searches a day, which is A LOT. To put it mildly.
Doing SEO is about getting your slice of the pie. As a business owner, you want your website to remain reachable among billions of searches so that your customers find you.
What makes up SEO?
Traffic, traffic, and again – traffic.
But you don't need all sorts of traffic just for the sake of having it. You need the one that converts into sales, not the other way around.
That is why all SEO endeavors are aimed at boosting high-quality, organic traffic. It's a natural type, and it matters most.
Put your cup of coffee aside for a minute and scope out below to understand how paid searches look like.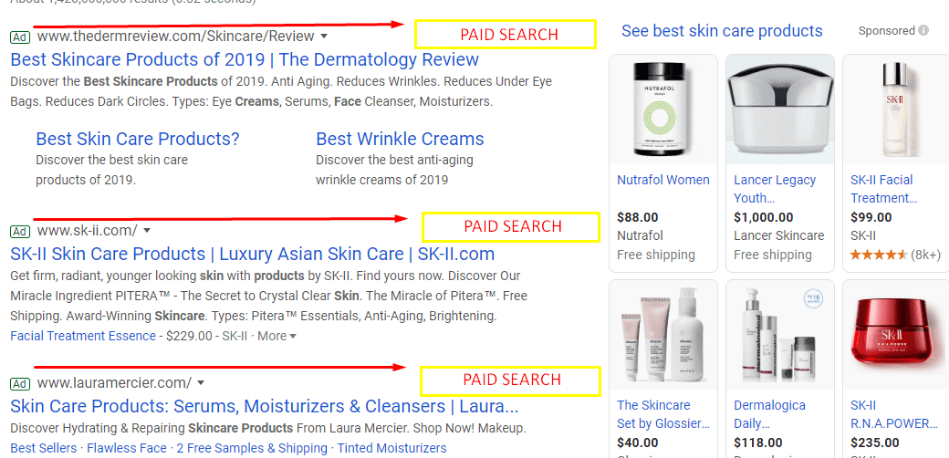 Yeah, they are those annoying ads. And here's how organic search results show up on Google.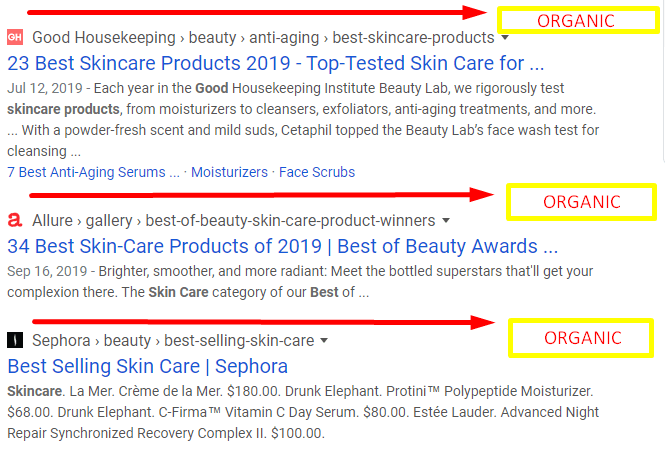 No matter how maddening you find them, paid search ads do make your website appear high on Google. However, the statistics show that more than 70% of users just skip them in favor of organic results. Why? Because it's in human nature not to trust paid ads, like those associated with PPC.
When your SEO is good, Google sees your website as the one that is relevant to users' searches and ranks it on the search engine results page (SERP). By saying "ranks", I mean lists it higher or lower as opposed to other websites. It happens naturally, and you don't pay any Google fees or something.
Putting it all together: SEO and traffic are bosom buddies. Organic traffic pays off like nothing else, showing users that your website rocks and ads can't hold a candle to it.
What is the working principle of SEO?
A hard thing is done by figuring out how to start.
Moz.com co-founder
To better understand how SEO works, you should be no stranger to how Google, Bing, Yahoo, or any other search engine works. If you're sure that all search results are displayed higgledy-piggledy, I've got some terrific news for you.
What all search engines have in common is that they always let their crawlers out. These are like spiders that scan webpages to analyze what they are about and use the collected information to build an all-in-one database, known as an index.
When a user types something in, the search engine looks it up in its index, takes out the most relevant web pages, and makes sure they meet its quality criteria, called ranking factors.
Putting it all together: All search engines have indexing systems where they store the data (webpages, images, videos, PDF files, etc.) gathered on the web. They use them to pick relevant websites and determine how high the given one should be ranked when a user enters his or her query.
When it comes to SEO, I couldn't have put it better myself than the ex-Googler Matt Cutts, "SEO is like a resume, you polish it so you have your best foot forward."

SEO works by increasing your chances to comply with as many ranking factors as possible, so your website shows up above others. The key is to define them.
A new decade is around the corner, so are the changes in SEO success factors. In 2020, some basic SEO trends are expected to remain highly relevant, like keyword optimization, mobile-friendliness, backlinks, website loading speed, and on-page SEO, to name a few.
Yet, 2020 still has something in store for all of us. New SEO trends include voice search, zero-click (when you're provided with the sought-after information without even bothering to click anything), and natural language processing (the guys from Search Engine Land break this down pretty well).
These trends already rule over the industry. Take a look below to find out how exactly.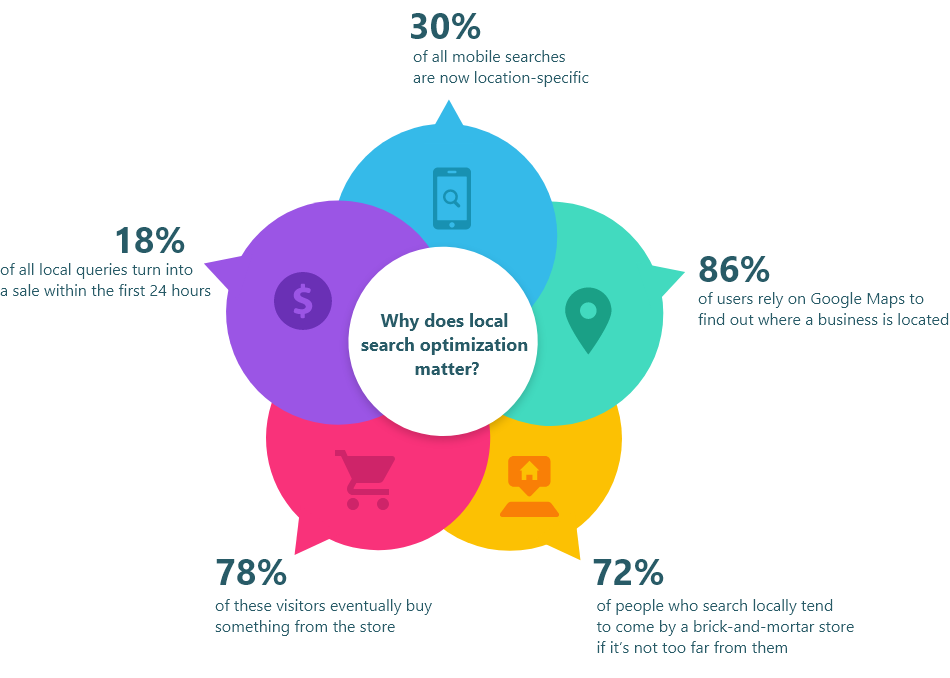 A word of SEO advice: Don't even try to make your website compliant with ALL ranking criteria at once. There are hundreds of factors, and it'll take you a lifetime to address each of them. You better get started with the most important ones.
What types of SEO are there?
The types of SEO vary depending on how you slice it. Here are a few pointers on what you should know as a beginner:
On-site / off-site SEO

Think of on-site SEO as everything you can do within the boundaries of your website – like writing content and optimizing HTML tags (titles, meta descriptions, H1s, etc.).

Off-site SEO is a completely different animal. It's done outside your website to improve its rankings.

For many SEOs, there's not much difference between off-site SEO and link-building. And for a good reason. But that's another story.

Local / international SEO

If you're the owner of a homeware store in London, and you don't export your goods abroad, why would you want people from – let's say – China find your website? That doesn't make much sense. You only need to ensure that your website is easily reachable by Londoners. That's where local SEO and "near me" searches come in.

Following the same logic, you do international SEO when your business coverage is not limited to one particular country. This way, your strategy should center around the optimized website structure, the right type of top-level domains, and many more to welcome users, no matter where they are.

You may have also heard about location-independent websites. Mostly, they are blogs, news portals, and online tools, like video converters, that can be reached from all over the world. Whether you're an American or a Croatian, you will find these websites right off the bat should you type some search query in the language they use.

Image / video / voice search SEO

Online businesses are destined to dance to the tune of users forever. Because more and more people now search by images, videos, and "talking to the machine", you have to adapt to these new conditions. Especially when they represent global SEO trends for 2020. By the way, if you want to catch up on the latest SEO news, you can't go wrong with Search Engine Journal.

That's why SEO varies by what you do it for, too. The latest trends call for different SEO strategies, meaning that you can't just rely on the same technique to optimize your website from top to bottom.
Putting it all together: SEO types depend on: 1) how deeply you go when optimizing your website (on-site / off-site); 2) how far you want to reach (local / international); 3) what exactly you're trying to optimize for (image, video, voice search, etc.).
How is the SEO process carried out?
Just like everything else that can help you make loads of money, SEO is a complex process.
Sure, you can research keywords and generate SEO-friendly meta tags on your own using some free tools and then sit tight, waiting for the miracle to come. However, that's not the way the great results are achieved.
This is what sets DIY SEO apart from the one done in liaison with those who know the ropes in the industry. You've got it right – SEO bears the biggest fruits when professionals take charge (do not deny yourself the pleasure to dig deeper into this with Entrepreneur).
One of the common ways to let it happen is to hire freelance specialists. But you can't know whether they are in a position to provide all-round optimization.
Another way – and probably the best one for beginners – is to have an established agency to do SEO for you. They can ensure good internal and external optimization, which is something Google really appreciates.
By working hand in hand with an agency, you will be walked through all the steps of the true SEO:
Keyword research. Not all keywords are created equal. Some of them will never work out for your website, while others can do wonders. That is the reason why they need to be selected wisely.
Technical optimization. The technical phase of the process is like doing your homework. How well your website is prepared for the "examination" by search engines directly affects its chances of winning their recognition.
External optimization. And now we are there – building links. This is all about having other websites linking to your one. Many SEOs call it the backbone of an SEO campaign, and it seems like they're right (we'll get back to this a little bit later).
Keeping the technical ball rolling. Just because you have once spruced up your HTML code doesn't mean you're done with internal optimization for good. It's crucial to keep an eye on your website performance and maintain it.
Follow-up development. Your website, as well as SEO, should not be grinding on for years. Always try to make it better for users. If people love it, so will search engines.
All these steps may take a while to be implemented, so it would be wrong to expect dramatic SEO results in a week. Besides, many factors (website type, domain age, competition level, etc.) should be factored in, too. You better allow for 6 months for SEO to start paying off.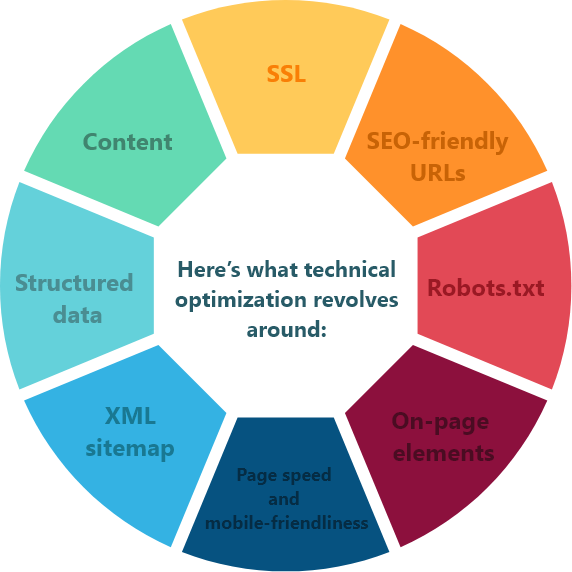 A word of SEO advice: Don't neglect technical optimization not to be out of the game in the long run. Make your website an easy-to-crawl one, and Google will make it noteworthy.
Now, let's get back to link-building. You may be tempted to think it's pretty easy. Actually, it's not. As a business in its infancy, you can hardly get enough backlinks to rank well.
For you to get a feel for the thing, the links that go to your website should be in abundance. And they should be from diverse sources (no one needs thousands of backlinks from just one website).
Some choose to go with SEO freelancers to get incoming links because it's cheap. Clearly, it's that cheap due to their inability to provide as many backlinks as it's needed for Google to give you a pat on the back.
To earn this kind of recognition, beginners are better off turning to agencies for help rather than buying up links from freelancers. By the way, Semalt boasts a partner network comprising more than 236,500 websites. And that allows us to provide you with a tremendous boost of backlinks to make sure your website ends up being the first on Google.
Matt Cutts again has hit the nail on the head with the following piece, "The objective is not to make your links appear natural; the objective is that your links are natural."

One more thing to remember: once you're in, there's no going back
Don't take me wrong. You can stop SEO whenever it seems the right step to make. But if you want to get as much organic traffic as possible day in, day out, you should do SEO consistently. This way, you will stay high on the SERP and won't let your competitors outperform you.
With 400 websites created every single minute totaling about 2 billion ones and 6 billion indexed pages (source), making your one stand out is a downright hard thing to do. However, SEO is one of the few solutions that can help you embrace your niche, bringing in substantial profits.
Putting it all together: The process of SEO encompasses a lot of internal and external (link-building) optimization. Having scores of backlinks will make your website worthy of being ranked at the top of the SERP. You should do your best to receive links as long as possible.
The bottom line
It's been a long time since SEO was a take-it-or-leave-it thing.
Now, all online businesses should optimize their websites for search engines to a greater or lesser extent. If they care about their revenue and sustainability, of course.
SEO is everything. It's a pillar of the sales funnel and a credibility booster. It drives organic traffic to your website and "lays the first brick" to build your online presence.
Beyond any doubt, it takes a lot to do SEO right. But everything pales in comparison with how many opportunities it can open to you.
Hope this guide has made things clearer, and you're now one step closer to the world of SEO. Or do you still find some information baffling? Do you need shedding more light on any of the aspects outlined in this article?
Feel free to share what's on your mind.