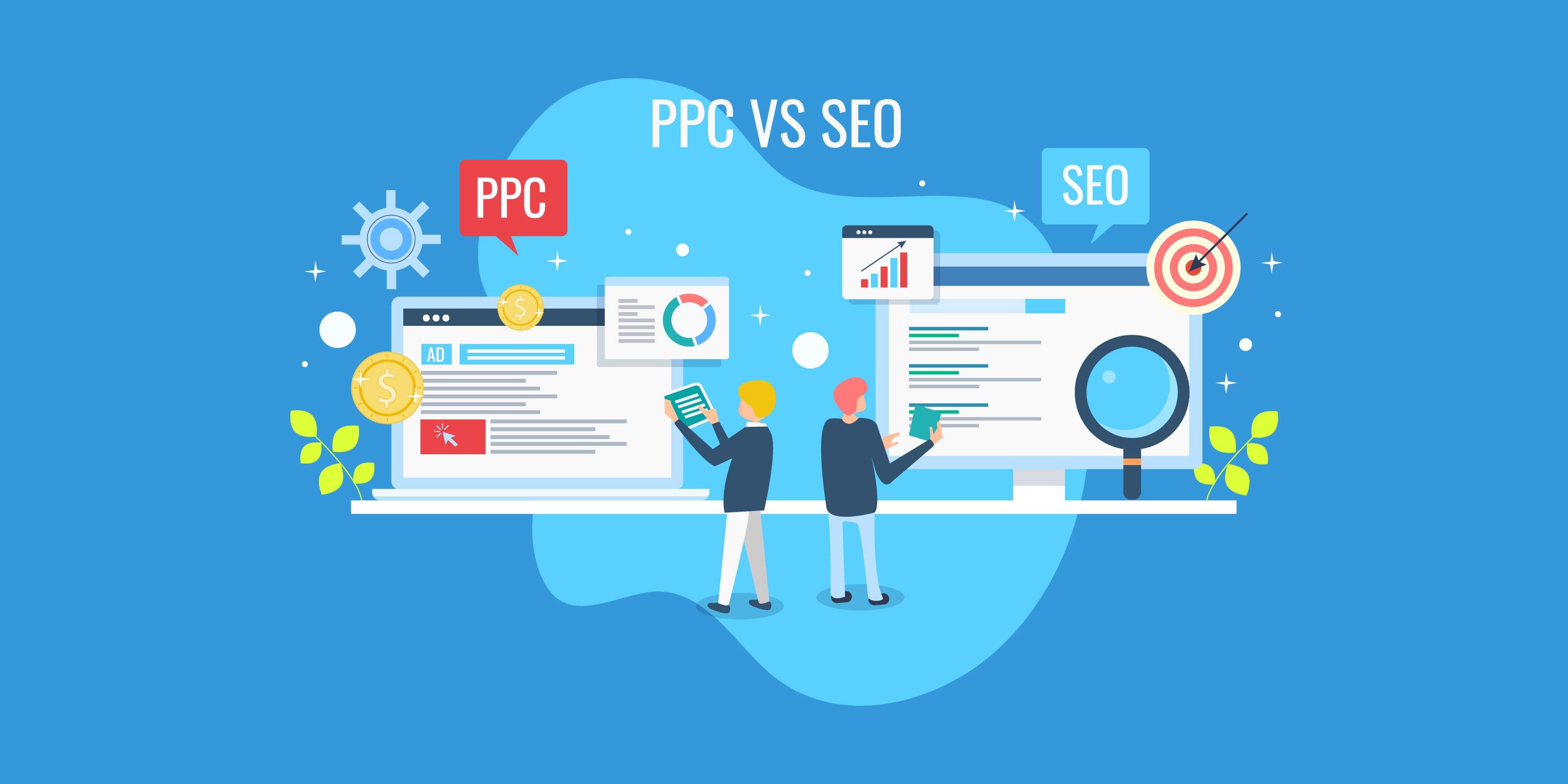 "SEO rocks!" is often heard as a watchword of those who have got a feel for search optimization as their online marketing way.
Meanwhile, untiring advocates of paid ads stand up for PPC.
They all have their reasons to take up the cudgels. However, it seems like they have no other choice but to agree to disagree. Should they?
The crushing weight of arguing aside, which one is really best? Is it SEO or PPC that can help your business wind up having a commanding online presence?
The time is ripe for the answers you've been waiting for.
Stripping SEO and PPC down to the bare bones

Determining which one takes the lead is not all roses. Both PPC and SEO bring some value to the table.
Let's get back to the basics to be well up on things.
PPC is an auction-like search advertising model based on the bidding system. Long story short, it implies paying a fee for every click, whether it results in a sale or not (hence the name "pay-per-click").
This way, PPC allows your website to take a shortcut to the highest spots on Google. It helps you get over the hump of optimization by driving paid traffic from the get-go and displaying your website with the Ad sign on its left.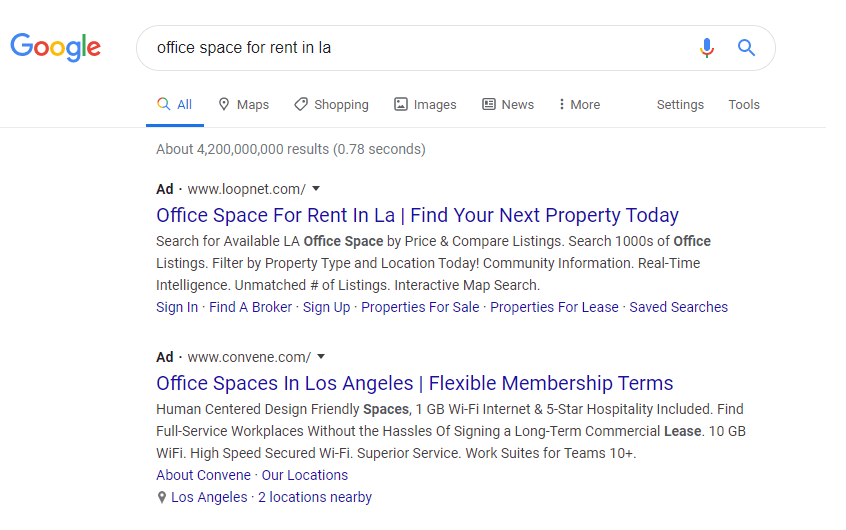 You may call PPC a way of buying search placement. And you wouldn't be that badly wrong. Because advertising makes up the biggest portion of its bottom line, Google has its reasons.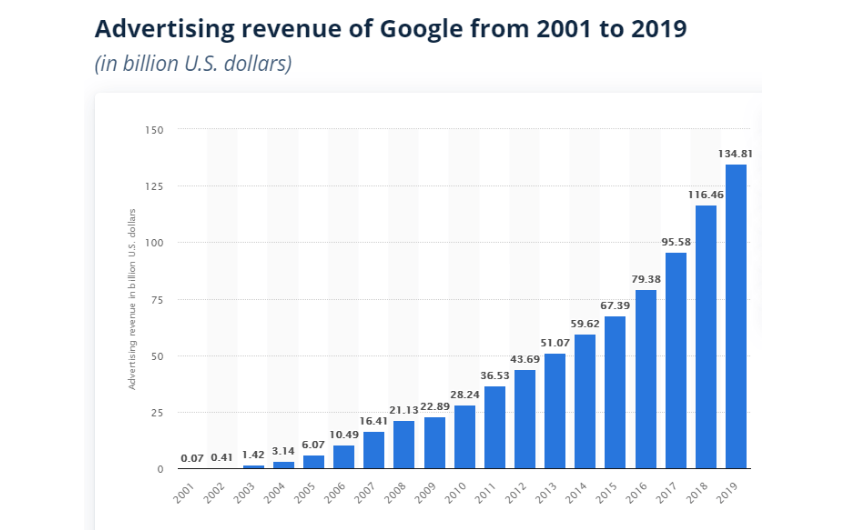 When it comes to SEO, it's far from advertising in the ordinary sense.
It's a way of naturally optimizing your website to ramp up organic traffic by improving its rankings
. You don't have to pay a cent for clicks, impressions, or whatever (for a more profound understanding, take a look at this
SEO guide
.
Evidently, the fundamental difference between SEO and PPC lies in the type of traffic each of them delivers. While a pay-to-rank strategy provides you with the visibility power of ads, natural optimization only sets its sights on organic search results.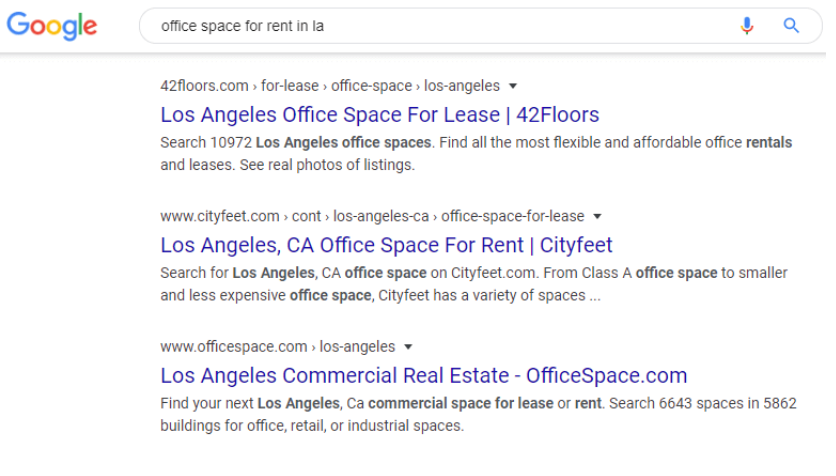 Putting it all together: If you run a PPC campaign, your website is displayed as an ad, pulling paid traffic in. When you do SEO, however, it is shown as it is, serving as the source of organic traffic.
The best and worst things about SEO
No doubt, SEO has its ups and downs. Getting a handle on these is what every rookie entrepreneur should start with.
Fact-based pros
How it pays determines a lot. Be my guest to find out what organic optimization has to offer:
Great ROI. There has always been a lot of talk about the actual return of marketing campaigns. This research has left no stone unturned, putting SEO as the channel of choice with its average and highest ROI at 41% and 32%, respectively. Wrap this up with its one of the lowest customer acquisition costs (CAC), and you will get a real thing.
High conversion rate. Once your website takes pride of place in search without any ad sign next to it, this serves as a signal for people that it's their best way to go. After they land on it and see that everything works like a well-oiled machine, they become your customers. That is why organic traffic is all about the most coveted conversion rates and lifetime values.
A word of SEO advice:
To encourage users to do what you want them to do, make sure your website is well-optimized internally. Some
free SEO tools
may be of great use.
Excellent CTR. An average #1 placement on Google boasts 31.7% in its click-through rate. To realize how huge it is, think of the medium CTR for PPC, which is 1.91%. Apparently, it all comes down to ad blindness (when users jump over paid listings to hit organic results).
Richer traffic source for ecommerce businesses. If you're considering SEO versus PPC for your online store, you need to know which one makes more people gravitate towards it. Many years of doing e-commerce SEO at Semalt are now crammed into the following breakdown: measly 5.05% of online store traffic comes from paid results, while organic ones welcome the remaining 94.95%.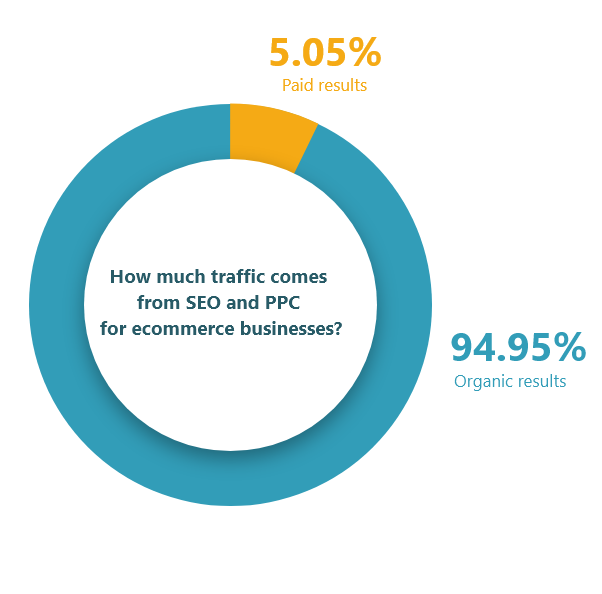 Improved long-term standing. Doing SEO consistently can foster your way in business, especially if you're not a household name. All-round optimization, beefed up with link-building, will crank up your company's trustworthiness and produce a ripple effect on your brand awareness.
Relatively uninterrupted traffic flow. Another thing where SEO outperforms PPC is how long your traffic remains at the same level if you choose to stop your campaign. When you no longer pay for Google Ads, this cuts the cord instantly. With SEO, however, you will be getting as much traffic as you used to for the next 3-4 months.
No eligibility criteria. You don't have to prove anything to dive into SEO. Sadly, this is not the case with PPC. Not all businesses are eligible for advertising with Google Ads, meaning that some of them have to adapt to strict policies or undergo advanced verification. That's where having an ordinary Google My Business listing is not enough.
What about SEO downs then?
SEO is neither easy nor is it a magic bullet for ALL your business visibility woes. But first things first:
Gear up for months of waiting. You can't know whether your campaign works if you've just got it off the ground. For the best to come, you should bide your time for up to 1 year from the moment you start. Be patient because SEO has never been an overnight process.
There are no guarantees. Unrealistic expectations sometimes soar among SEO beginners who heavily rely on wishful thinking. But the success of this campaign can't be pre-determined. All binding promises are a pie in the sky.
Unpredictable downs happen. With all those ranking algorithms and giddy searching trends, only fortune tellers can assure you of the results. SEO may be the rollercoaster of peaks and valleys, making your ride quite bumpy.
Winning the first spots on Google is tough. In the face of cut-throat competition, it will take you a good deal of effort to rank #1. If you operate in the niche saturated with rivals, your SEO results are likely to depend on their marketing success, as well.
Putting it all together: SEO blends the highest ROI, conversion rate, and CTR, helping you make the most of your buck. It can be done by any business, although it's hard to nail it fast, especially if you have many competitors breathing down your neck.
Benefits and drawbacks of PPC

Now, let's scrutinize why some businesses choose PPC over SEO and why others don't. The borderline between both strategies can't be any straighter.
Why go for PPC?
Considering PPC vs. SEO is actually a matter of what kind of traffic you want to bring in. Here's why the former can be your best fit:
Instant results. PPC is like a sports car in the digital marketing world. You only need to fuel it with the right bidding and keyword strategies to make it to the finish line on Page 1.
Targeted promotion. If you're putting forward some time-sensitive service, Google Ads can help sell it in a flash. Plus, you can create a campaign for impressions when brand awareness is more of a priority.
Better exposure control. PPC comes up with a pack of benefits for local and niche-specific businesses. It allows you to propel your promotion for the specified areas.
Hands-down launch. Technically, you can set up a PPC campaign on your own. Although it does require some skills to get started, the whole process is way easier than that of SEO.
Easy-to-measure performance. With Google Ads, you have a lot of metrics ready at hand to determine which ads bring the expected CTR and which are worse-performing.
A word of SEO advice: If you're about to jump-start a campaign with Google Ads, keep in mind that there are bidding options not only for clicks but impressions and views.
Why may PPC fail to meet your needs?
PPC is lightning-fast, but there are some "buts". Some of them may be crucial for your decision-making. PPC's fly in the ointment is:
Bidding dependence. The catch with PPC often lies in the demolished results once you stop splashing out on placement. When your campaign is over, so is your high visibility.
Costly promotion. PPC is deservedly labeled as the most expensive online marketing channel. It makes you pay for EVERY click, with an average CPC of $2.69. Do the math.
High cost of failure. Should something go wrong when setting ads, your promotion is likely to come to nothing, cutting a yawning hole in your budget.
Ad blindness. We all tend to selectively ignore ads when searching, which is why paid results can't be as impactful as organic traffic. People just don't trust them anymore.
Thorough planning is also a must. To leverage your PPC campaign, you need to take care of many things before setting it up (on-page optimization, keyword research, etc.). This can take up to 6 months.
Putting it all together: PPC is just the thing for local businesses that crave tangible visibility improvements straight away. However, its expensiveness and "blindness effect" should never be disregarded.
Still baffled about SEO vs. paid search?

Do you have your finger on the trigger? In a perfect world, you'd then push the "PPC and SEO mix" button.
Why? Because this will allow you to drive traffic immediately while giving some time for your SEO to gain momentum.
Plus, such an integrated approach will extend your keyword coverage. As PPC is best for high-search-volume terms, and SEO is without equal for low-frequency ones, their blend can work wonders.
The mix of SEO and PPC can also add stability to your ranking performance, giving you a competitive edge. Because the visibility of paid ads can't be ravaged by algorithm changes, your underdog website can instantly appear high on Google, standing up to industry heavyweights. Meanwhile, SEO will set the stage for you to rank there without paying for clicks.
Unfortunately, the world we live in is NOT perfect. The struggles of all businesses often go hand in hand with the lack of resources, which may have a bog-down effect.
If you don't have that much time to deal with both strategies, or if you can't afford them in combination, then SEO will be your wise choice. Not only is it way more affordable than PPC, but it makes for long-term results.
Putting it all together: It's not about paid search vs. organic search but their combination that provides the most substantial benefits in terms of visibility and profits.
The bottom line
The reason why the battle of SEO vs. PPC has no outright winner is that they both can take your online marketing up a notch.
Which one is the best fit for you depends on:
type of your business

ultimate aim of your promotion endeavors (revenue boost, brand awareness, etc.)

keywords you want to rank for

how much time you can devote to it

size of your marketing budget
If you can afford to go for both, do it. In other cases, SEO will fit the bill to benefit from the results that last.
And what do you think?
Have you run an SEO or Google Ads campaign so far?