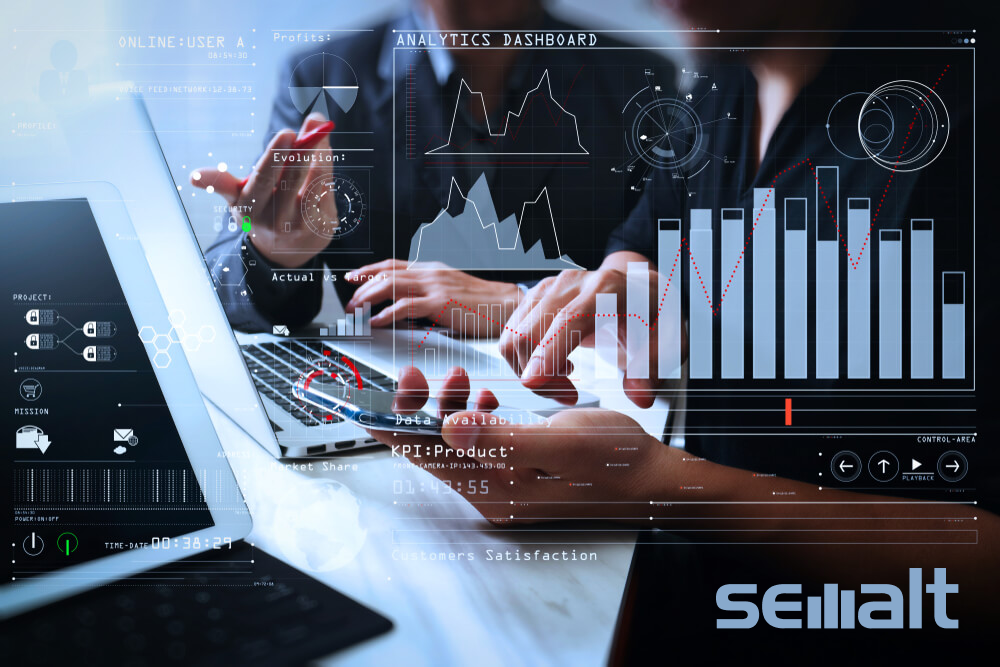 When you do SEO for someone else's websites, you need to juggle strategies, insights, and reports at the same time.
Is it hard? Sure. But it's not impossible.
SEO dashboards are feature-rich toolkits that you use to go from scratching the SEO surface to managing many optimization projects at once. They allow you to up your service and make it more insightful for those who rely on it.
Dashboards incorporate a bunch of analytics tools. Your customers can use them to track, analyze, and better understand their SEO campaigns.
The Dedicated SEO Dashboard (DSD) is no exception. It's a way to streamline your business processes without investing in a hodgepodge of different tools. Still, it's not like the other dashboards you may have come across before.
DSD SEO analytics dashboard from your customers' perspective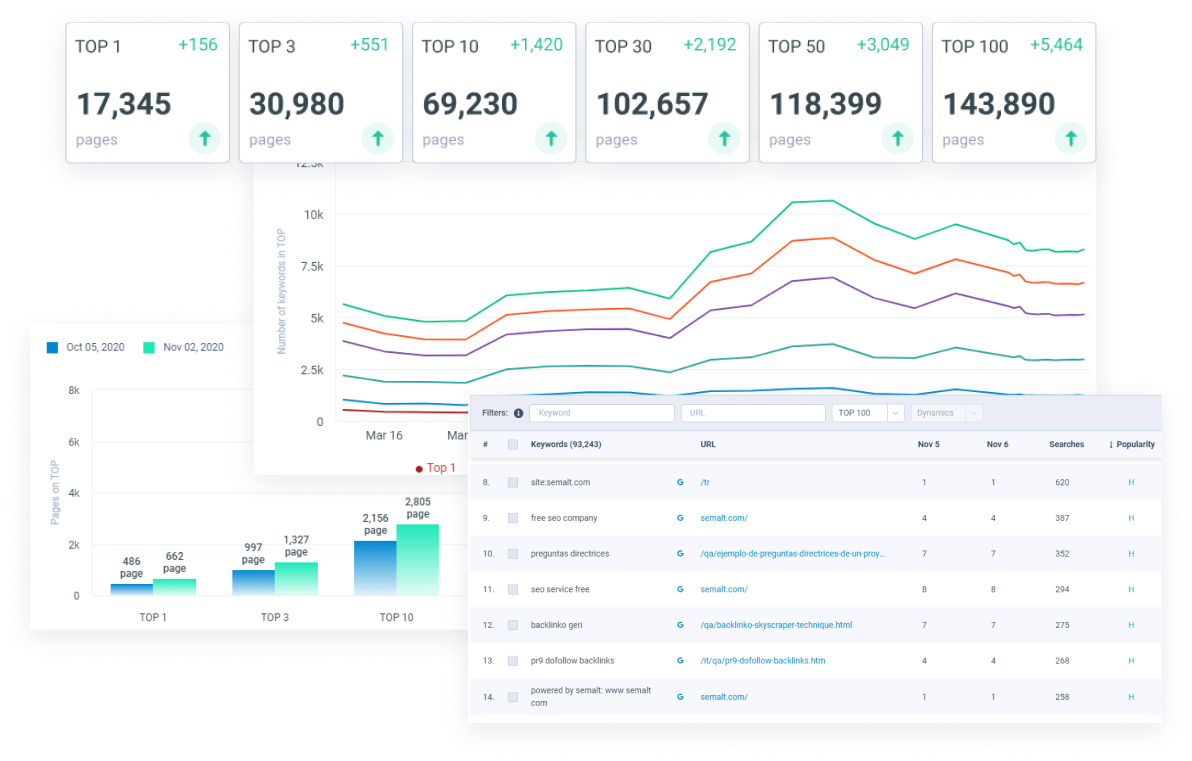 With the DSD, your customers are in for a treat as they choose your SEO service. Once they sign in and add their websites to it, they can:
Dive into SERP analysis. Who wouldn't want to track their keyword rankings and top-performing pages right from the SEO client dashboard? Wrap it up with competitive intelligence – and you get the DSD.
Spot SEO, technical, and content issues. The DSD lets your customers know why their websites may be outplayed on the SERP. They can run unlimited SEO audits to get a bigger picture of the technical performance, page speed, content uniqueness, and everything in between.
Get on-demand reports. SEO KPI reporting keeps your customers posted on how their campaigns are coming along. Nobody is left in the dark. With the DSD, they can schedule SEO reports to track whatever they want to track at any time.
DSD from your perspective
The DSD has it all to make your SEO service more valuable. You can set it up as a subdomain for your domain while also completing it with your logo, brand features, and CTAs. It's essentially a white-label addition to your service.
Once it's set up, you can control how your customers interact with your new SEO reporting dashboard in the DSD Admin Panel. From there, you can:
share access to the DSD to everyone on your team and set permissions
align it with your brand, create CTAs, and add a pricing page
organize your leads, monitor their actions, and crunch the numbers
handle all the requests your customers submit when they use your dashboard
If you think the DSD is pretty much like Ubersuggest, Ahrefs, SEMRush, and other SEO dashboards, think again. Zoom in on how its Standard version stacks up against those: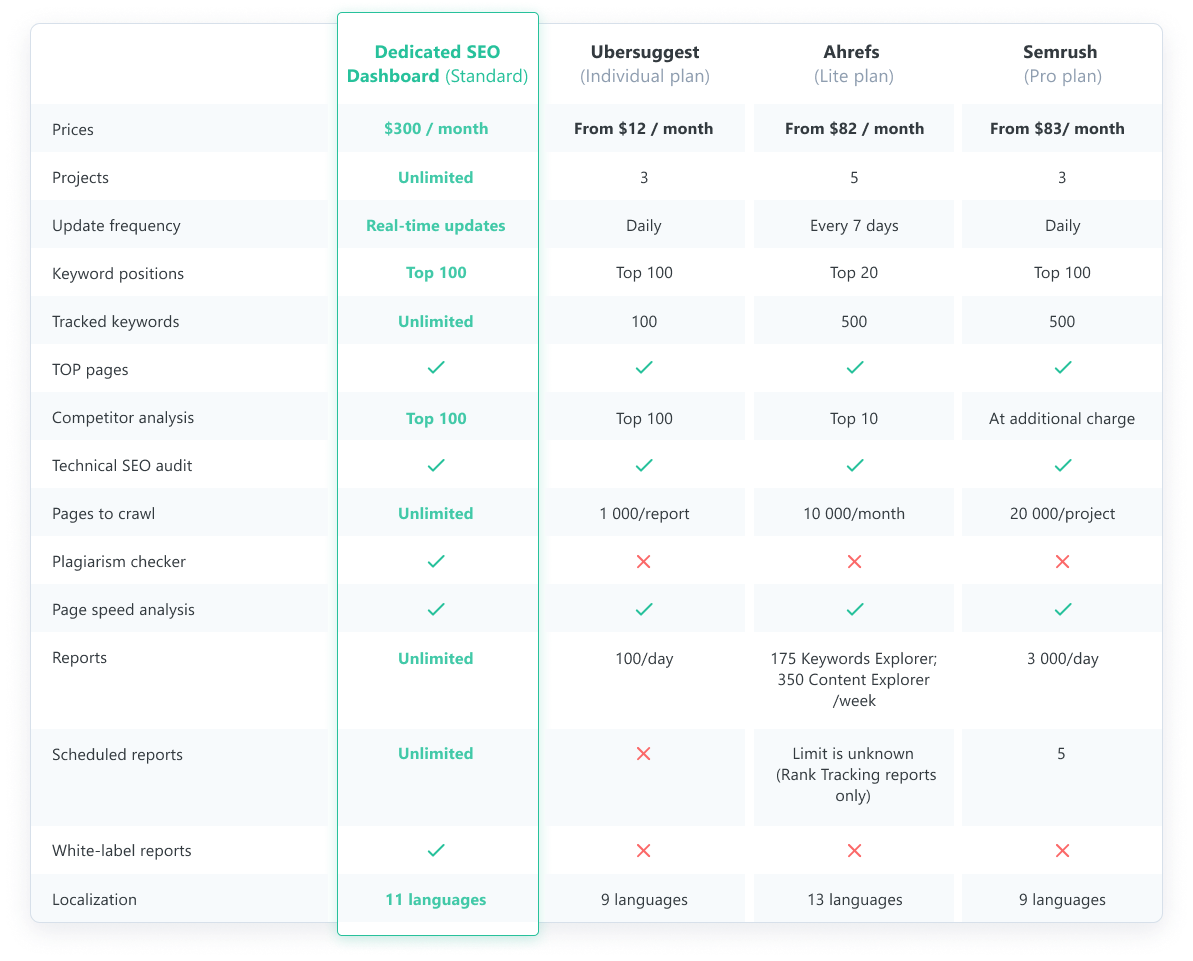 While other dashboards impose restraints on how many keywords your customers can track and pages they can analyze, the DSD helps you go beyond limits. Its Standard package is a storehouse of trackers, analyzers, and reports that make any SEO campaign easier to handle. With it, you can keep a close watch on everyone who uses your dashboard and respond to all their requests as they occur.
The Standard package aside, the DSD can be upgraded with add-ons to up-level your lead generation and management processes. LinkedIn Leads, Crawler Leads, and Facebook Groups give you access to millions of new leads for an additional fee. The ball is now in your court.
What does it mean to your business?
If you needed to get your car repaired, which automobile shop would you choose? The one that would make you diagnose a problem on your own and then look for replacement parts somewhere else? Or the one where you could have it all done under one roof?
The same goes for a search engine optimization dashboard.
Your customers expect you to deliver the best service, which is impossible without an all-in-one SEO solution, like the DSD. It saves them the bother of looking for other tools, whether they're tracking their rankings or checking their pages for bottlenecks. And when they need to get it addressed, they can submit requests for your service from the DSD.
The DSD empowers you to:
retain your customers as long as they want you to do SEO for them
make your lead generation process more productive
build brand trust
upsell your products and services
focus on your core business processes
make the most of every dollar you invest in SEO tools
deliver insights in the language your customers choose
The takeaway
An SEO report dashboard is a must-have for every SEO agency or any other company offering SEO services. But you should never take it lightheartedly when choosing which one to adopt.
Semalt's DSD is the right choice because it stands out from other dashboards. It has way more unlimited features coupled with real-time updates for detailed data sets at a fraction of its counterparts' price.
With the DSD, you can stay focused on your SEO business, not wasting time on your dashboard maintenance. Our team will always be on the technical side to keep downtime at bay.
Plus, we will assist you as you take your first steps with the DSD. Although our
Help Center
is packed with how-tos, we will still guide you until your dashboard is up and running.