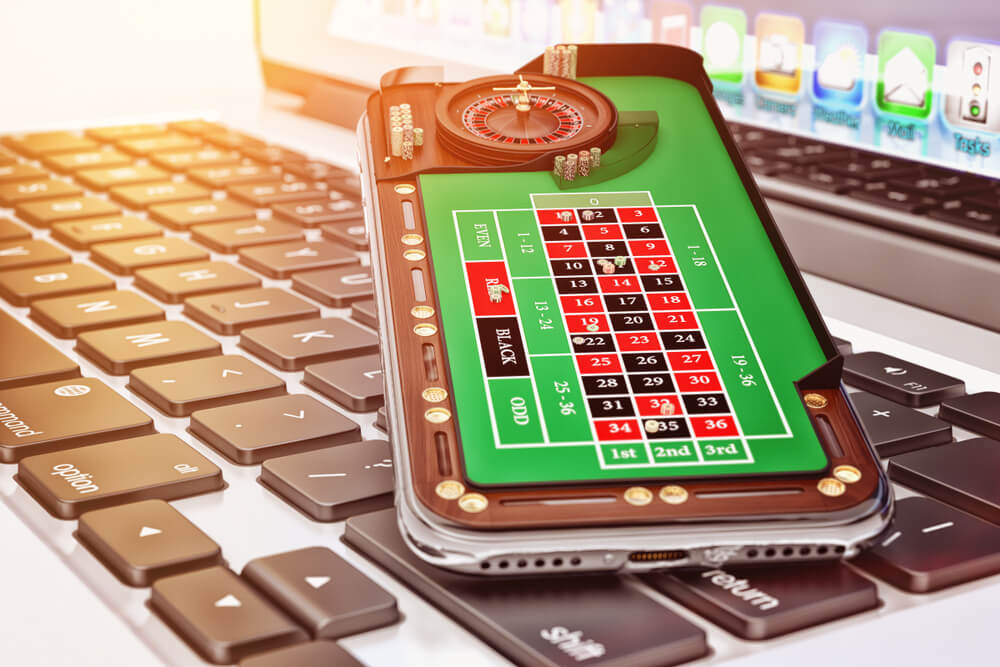 $92.9 billion.
That's how much the online gambling industry is projected to be worth by 2023, Statista says.
Being part of such a lucrative market is backbreaking, though. As a budding operator, you will have to vie with bigger-name venues and their armies of casino marketing specialists. The feeding frenzy is an irreplaceable element of the online gambling landscape.
That's the tip of the iceberg.
Winning players away from well-established sites is just as hard as marketing your own one. While Facebook and Google – that account for 70% of digital advertising share – require online casinos to apply for permissions to start their campaigns, other platforms forbid enticing people to gamble altogether.
On top of that, online casinos, bookmakers, and poker sites often get banned for far-fetched reasons. Even publishing betting tips may cause your website to be permanently derailed as legalities in this industry are very intricate. Add to this the fact that casinos are considered YMYL pages and are hit by every other Google's algorithm update – and you've got the picture.
Doing SEO for gambling sites can be a solution. But it needs to be done with all industry-related obstacles in mind.
Top-4 strategies to rank a casino first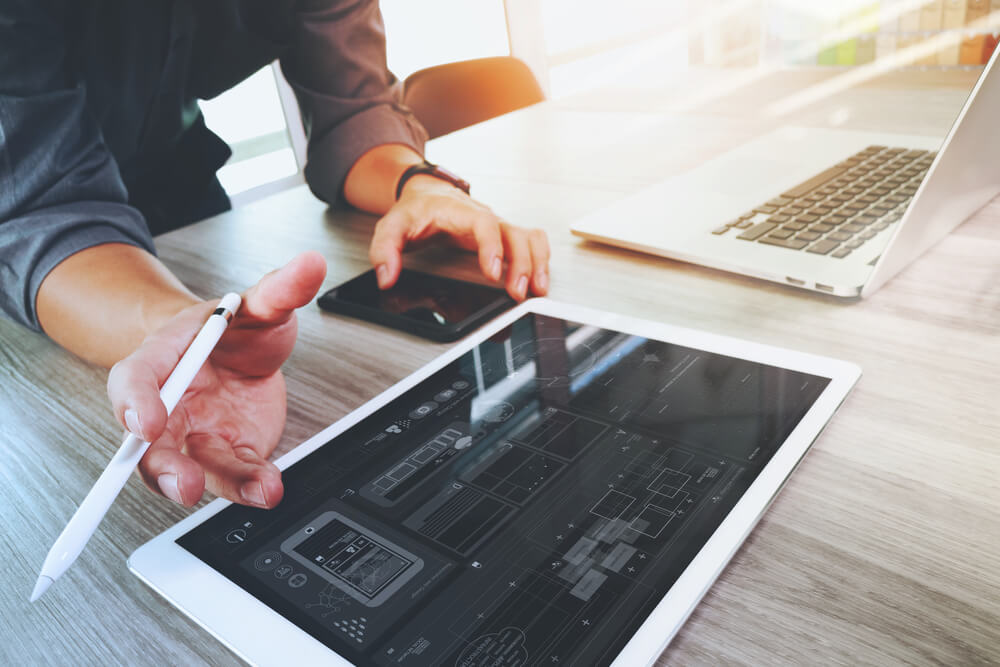 The worst thing about promoting a gambling site is that there's a large gray area when choosing a strategy. For instance, what may skyrocket the growth of an online casino may do the opposite for a sports betting or poker website. You will likely need to make a run at various strategies until you find the one well worth the effort.
Consider getting started with a market analysis and gradually proceeding to online gambling SEO.
Market analysis
Did you know that
26% of the world's population
tend to gamble every so often? A market analysis is what you need to do to figure out who is likely to land on your site and who is not.
You should also know how to make your target audience WANT to play at your casino. If your potential visitors are all over slot machines, let them pull that handle with plummy bonuses. Do most of them have a soft spot for roulette? Let them have fun at your venue with more options than what your competitors offer. European, American, and French roulette will all do nicely.
Although it may sound like it's easier said than done, it's actually not. Conduct a market analysis to shed light on your target audience's needs and promote your gambling site accordingly.
Email marketing
Back to the already-proven techniques. Whether you have a dedicated team of casino marketing specialists or not, this strategy shouldn't be overlooked.
When new visitors come, they not only entrust their money to your casino or sports betting site. They also provide you with their email addresses when signing up. Make the best of them.
Email marketing is a jim-dandy way to keep players informed of your welcome bonuses, brand-new games, or betting lines. The gambling industry is notable for some of the highest open and click rates, so your chances of getting to the inboxes couldn't be better.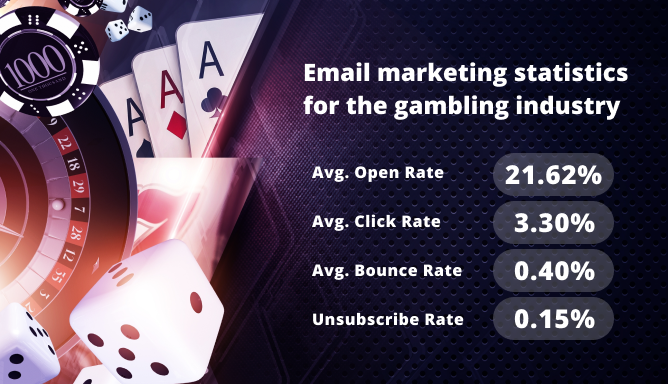 Content marketing
If you think it's about cramming a bunch of casino keywords into overstuffed web copy, think again. Like in any industry, content marketing for gambling sites is about being unique while giving players what they are looking for.
With the market analysis report at your fingertips, you should then create quality content for each of your landing pages. Whether it's a game description, how-to-play video, or riveting image, make sure it's original and suits your site style.
Always use your keywords wisely. Your web copy makes the best place for short- and long-tails, but spamming thousands of them is a rookie mistake that puts you at the risk of being battered by search engines.
A word of SEO advice: Writing quality copy for an online casino, bookie, or poker site calls for relevant expertise. If you have never created content for the gambling industry before, you better hire someone who is adept at the job.
Casino SEO
Our next stop is SEO. And, of course, we're going to take the plunge into link building straight away.
All YMYL pages, including gambling websites, need to focus on improving their authority as no player will ever hit an online slot hall they don't trust. Building backlinks (a lot of backlinks!) is what can help you in doing so.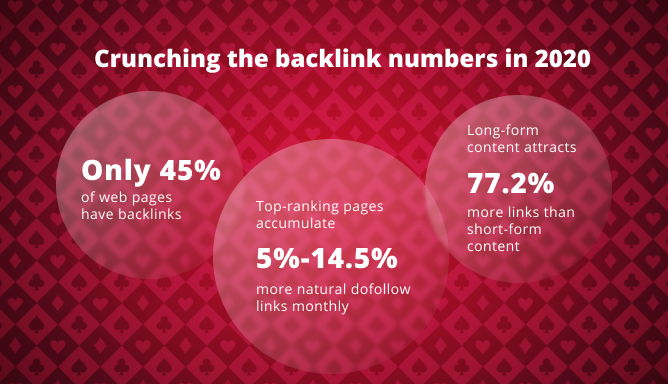 As if SEO for online casinos wasn't tricky enough, building links to them reminds of an additional level of complexity. Many don't dare link to gambling sites for fear of being penalized by Google for manipulating the system. That's an even more dangerous game to play if you're operating in the countries where the industry sits at the underbelly.
Even so, you have to enhance your link profile to rank high. How? Try the following:
Alongside tweaking your link profile, you can do a lot about your site. Take a look at what exactly:
Optimize your meta tags. Are you sure all your pages come with polished titles and descriptions? If not, go create them while sprucing up your robots meta tags, alt text, and headings.

Be faster. Players want to play, not to rant and rave about your slots loading for ages. Speed up your pages for things to happen in an instant as people continue to gamble.

Let them know you better. Third-party reviews are good, but they can't replace on-site testimonials. If veteran players slobber over your games, bonuses, or anything else, so will newcomers.

Bring your navigation to perfection. A user-friendly design with intuitive elements is crucial for making a gambling site a pleasure to surf through. Wherever players land, they want to see your action buttons like "Play" or "Max Bet" in front of them, so ensure that they are there.
Putting it all together: Different strategies work for different gambling sites. But the blend of email marketing, content marketing, SEO, and in-depth market analysis will do the thing for all.
How to retain folks at your casino?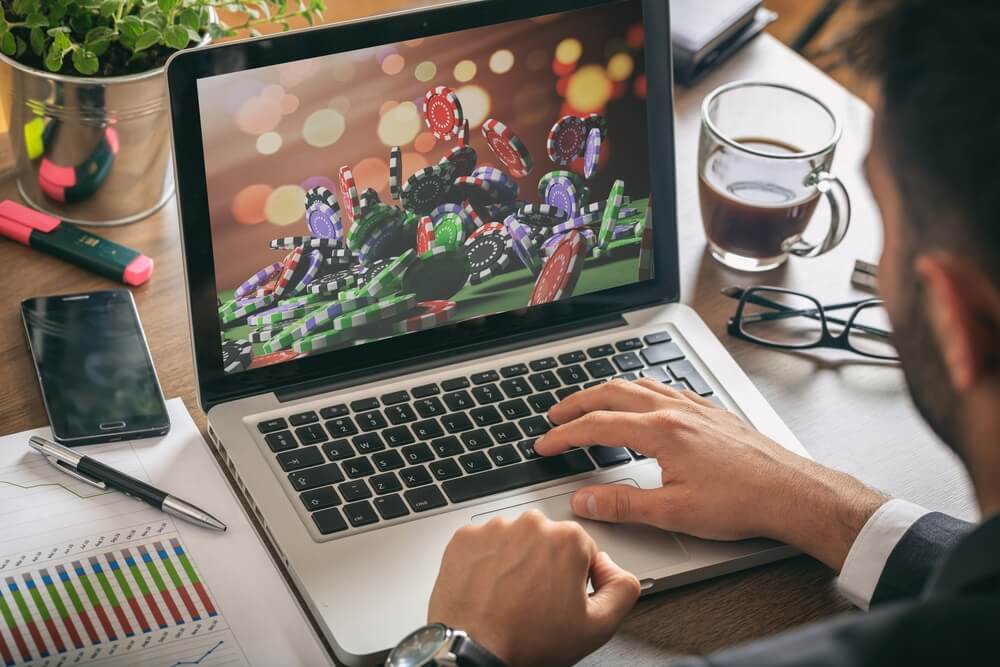 With so many online venues cropping up, players are spoilt for choice. And that implies another challenge for you as an operator or a bookie.
Embarking on SEO for an online gambling site can get you way higher on the SERP, albeit this won't keep players loyal. These days, they have everything it takes to hit a different casino every day if they want to. Your mission is to satisfy their needs well enough for them to stay at your venue.
Once your site's load time is excellent and your navigation is flawless, try to implement some of these player retention techniques:
Tournaments. Nothing is more thrilling than combining a competitive spirit with the drive to win. Tournaments will keep your visitors engaged because gaining the upper hand over real opponents in Texas Hold'em or other games feels so nice. Arrange them daily, weekly, or monthly while offering bigger-than-average prizes, and players will be glad to come back.

Loyalty programs. Letting returning enthusiasts earn VIP points that can be exchanged for game benefits or cash bonuses is a popular way to incentivize folks to choose your venue. Whether you're a casino operator, bookmaker, or poker site, developing a loyalty program will pay off.

Bonuses and offers. It's not only your casino's reputation or your range of betting lines that players pay heed to. First deposit bonuses, free spins, cashback offers, and ongoing promotions are just as important. Provide greater value for your visitors' gambling experience.

Quick withdrawals. Usually, it's a cinch to deposit money on gambling websites, but not all of them offer such a stress-free experience for cash-outs. Don't be one of them. Players want to have many withdrawal options to get their winnings conveniently and fast.
Putting it all together: Incentives are key to fight off cut-throat competition and retain players. Pair them with easy withdrawals and exciting events, such as tournaments, to make your visitors' time at your casino more rewarding.
How can Semalt help with SEO for casino sites?
If you own an online casino or a sports betting website, you can latch onto either a free
Dedicated Semalt Dashboard
or FullSEO. Here's what each of these entails.
A DSD is where the
best SEO tools
are rolled into one. When using it for your gambling site, you can:
keep track of your KPIs and how things are going with your SEO campaign

fine-tune it on the go when your players' needs change

be one step closer to monitoring rival casinos and the techniques they deploy

get analytics data for your website's performance over time

stay aware of which marketing strategies work for your venue best
FullSEO is for you if you want your gambling site to get top billing on the SERP during a full-fledged SEO campaign. It incorporates an array of on-page and off-page tune-ups aimed at outranking other casinos and bookmakers.
In light of the industry pitfalls, our FullSEO for gambling sites also involves:
website migration to another domain if it gets banned or otherwise blocked

setting up redirects to channel most of your existing traffic to a new domain

SEO-friendly content creation

SSL certificate installation
A word of SEO advice: We recommend that you create and promote one or several referring gambling websites along with your main one. This will help get around if the latter is banned.
Both DSD and FullSEO can be tailored to any poker site, online casino, or sports betting platform. Go the Semalt way to watch your Google rankings grow, regardless of algorithm updates and jarring bans!