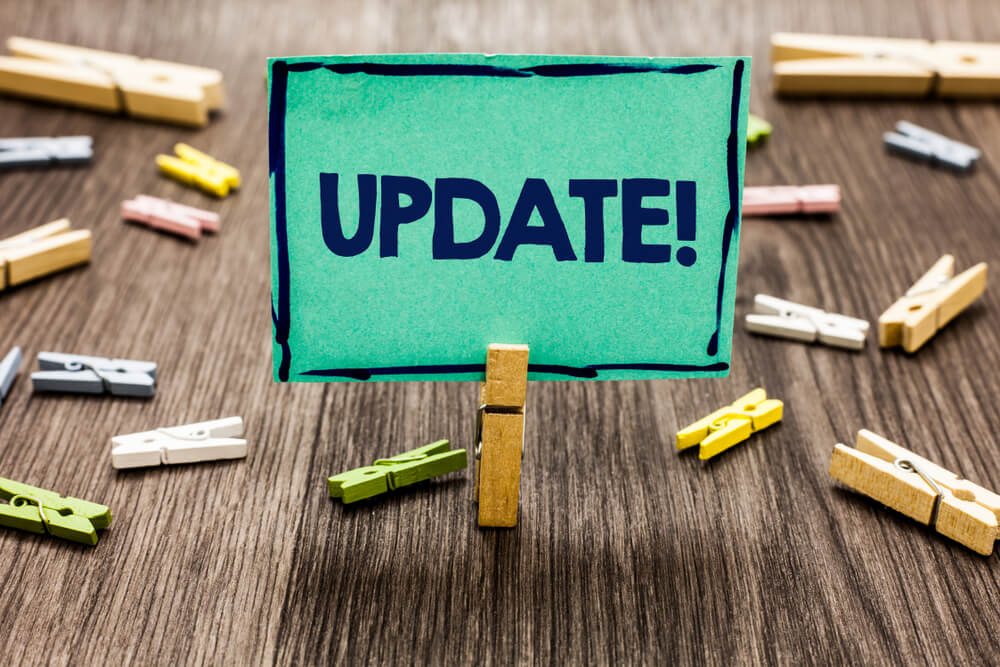 To improve is to change; to be perfect is to change often.

Sir Winston Churchill
Long before this Internet stuff, the former Britain leader Winston Churchill verbally stressed the importance of change. Fast-forward to today – the search engine behemoth catches up with his wise saying in Google's May 2020 core algorithm update.
In a nutshell, a core update is a set of changes to how Google's search algorithms work. They are different from those thousands of minor tweaks that the company's developers make as they sip their morning coffee. Core updates affect the entire system, including the search rankings of most websites out there.
These changes are not something you'll need to get through only once in a lifetime. They are usually rolled out a couple of times every year, meaning that Google doesn't tread water. It keeps improving its systems to provide searchers with the most up-to-the-point results – similar to how we all do SEO to improve our websites for users.
Don't take my word for it. You better take John Mueller's word instead.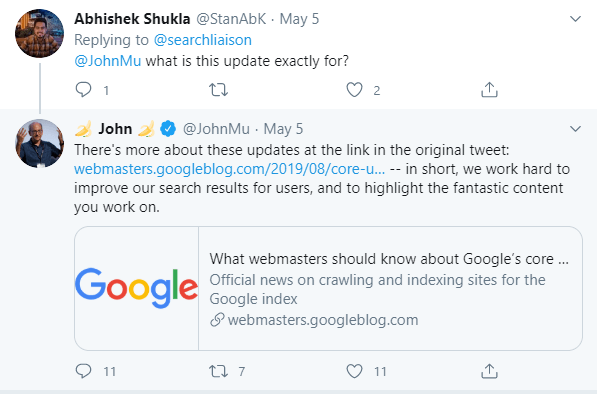 The May 2020 Google update is not the first algorithm overhaul that creates such a loud buzz this decade. Earlier this year, we saw the January Core Update (yeah, those guys have mastered the art of naming).
However, they have hardly anything in common in terms of what they have brought about. Unlike that in January, Google's algo update in May has more far-reaching consequences for websites and their SERP rankings.
According to Moz
, the latest one is akin to the so-called Medic update (which was a real game-changer two years ago) in the magnitude of its impact.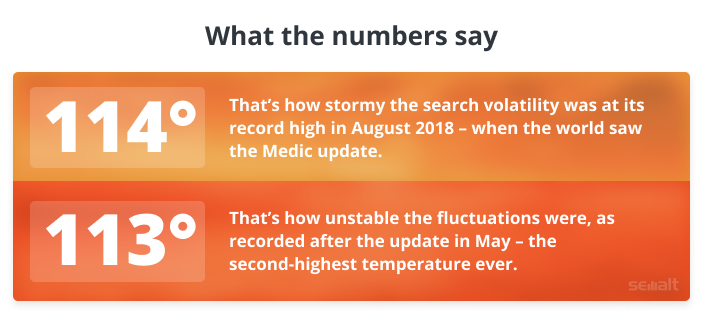 According to MozCast

Do you still think it isn't worth giving the time of day?
It's not only Moz that considers it "more than just another update". Leading SEOs from all over the world are unanimous in their opinions. There's no denying that Google's May algorithm update is huge and, unlike the Medic one, affects not only the healthcare industry and related verticals. It goes deeper, and this is what leaves SEO specialists and business owners flabbergasted.
What makes it even more complicated is that if your rankings happen to plummet, this isn't necessarily because you have a low-quality site. It may indicate that Google has just started considering other resources more relevant to search queries than yours.
Putting it all together: The new Google update was released in May 2020. It's of a core type and is created to enhance search algorithms. It's said to be the biggest update of the last few years since the Medic one in 2018.
Unearthing the truth about the May Google update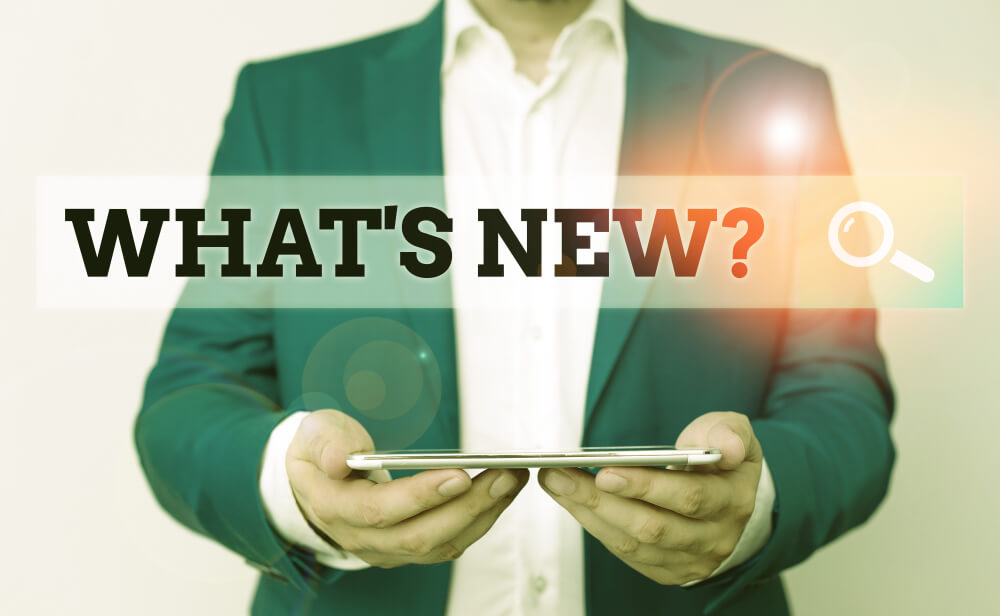 Although its overhauls have a way of affecting everyone on the web, Google seems to be reluctant to give a detailed overview of the modifications being made. The only official wording on core updates, in general, can be found in
Webmaster Central Blog
, where Danny Sullivan (Google's advisor for public search) attempts to explain things a bit.
It would make our lives easier if we had a full list of changes or, better yet, a post-update course of action prepared for us. As long as this is not the case, we can only monitor the consequences and learn to adapt.
At the time of writing, it's been almost 3 months since the May Google algorithm update took effect. And now we can draw a bottom line as to what it addresses:
A redefined understanding of quality. After the May update, websites that are teeming with texts to vaguely cover diverse topics seem to be at a BIG disadvantage. Even if their authority is proven, their rankings may go down because of the inadequate targeting of user intent.
Links are fuel for your ranking growth. This core update strengthens the role of trustworthiness, which has always been crucial for Google and users. That means having a backlink to your page can benefit not only its rankings but also your domain. However, it only pays if it's of decent quality (this post on dofollow link building can guide you further).
What makes users happier makes you rank higher. Bounce rates, views, clicks, and other signals are still pivotal. Google reports it improves its algorithms for the sake of user experience, which is why it keeps a close watch on how people behave on your website. With the latest update, this focus is even stronger and directly correlates to your rankings.
A new look at the E-A-T concept. If you've been nurturing your website's E-A-T side for years, you're not guaranteed to own the first page forever. Google's algorithm update in May rests on the fair play by enabling those with less expertise to compete with big names. Websites that offer higher-quality content (yet without that strong E-A-T) now have a chance to gain the upper hand.
Local rankings that were plunged into chaos were not supposed to do so. The early days of the latest update have caused some unprecedented trepidation. Many local businesses saw extreme volatility in their rankings as new algo changes were rolled out. But that was not expected to happen, as confirmed by this tweet.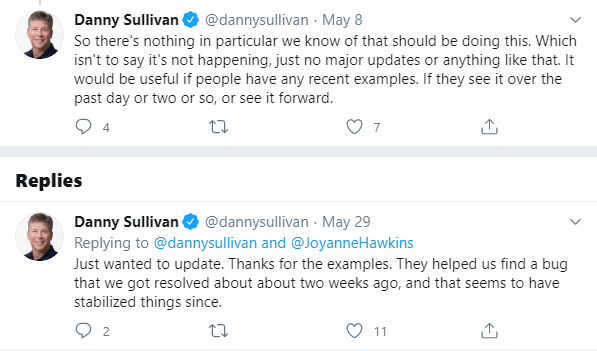 A word of SEO advice:
If you're a local business, you may want to jump to
this article
to learn how to create a GMB account and make the most of the Local Pack results.
Content-related factors remain at the core
Like most of the core updates, May's one is all about content. Algorithmic changes are made to reassess its quality to serve people better in what they search for and what they are offered in the results.
Whatever Google does, it does that with users' (not webmasters') needs in mind, for better or worse. It then expects you to catch up by ensuring that your content is served the best way possible. With this particular update, you need to focus on:
Quality, quality, quality. Nothing matters more than unique, insightful content that covers your topic comprehensively. It should be up-to-date and delivered in an appealing manner.
Expertise. Google's core May update 2020 doesn't downplay the role of E-A-T. Instead, it's in favor of the well-researched, fact-based copy that people can trust.
Presentation. Google wants you to ensure that your content is not inundated with spelling mistakes. It should be easily read on all devices and free from too many annoying ads.
Unique value. Do you know what people come to your website for? Use your content to give this to them and make sure it's different from what your competitors provide.
With these factors reassessed in the new update, many websites have experienced the turn of the tide in rankings. It has resulted in the wave of volatility-fueled changes that are better shown by numbers.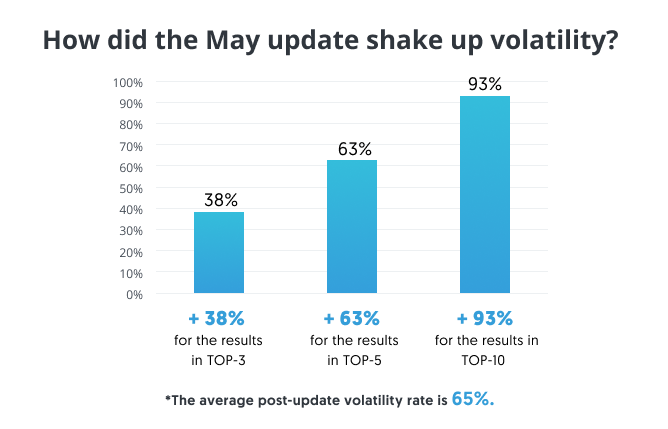 Sure, it's not only the update itself that has caused a significant shift in rankings. Back in May, it was released amid the COVID-19 turmoil (as if one heavy cross wasn't enough to bear). Therefore, it is often called the Pandemic Update, which makes one more thing to address in your
Corona strategy
.
Putting it all together: The latest Google algorithm update in May 2020 puts content first. It's designed to reevaluate its quality and relevance. This process has given rise to drastic ranking fluctuations in just a few months.
Who has benefited from this update (and who has not)?
There's nothing permanent except change.

Heraclitus
Can you guess the first thing a tumultuous crowd of SEOs does when there's another Google's update? Let me save you the trouble – they get armed with analytics services and
SEO tools
to track the swings.
Google never shows its cards by describing what its next update, including this May's one, is set to change. But there's one thing we all know for sure – fluctuations are unavoidable from the very moment a modified algorithm starts working.
In this particular case, the new core update has induced a lot of contradiction and mixed feelings. Some have reported marked upticks in their rankings, while others have got knocked-down 90% in traffic drops. The following comments from the
WebmasterWorld
forum speak volumes about "the new normal in the online world".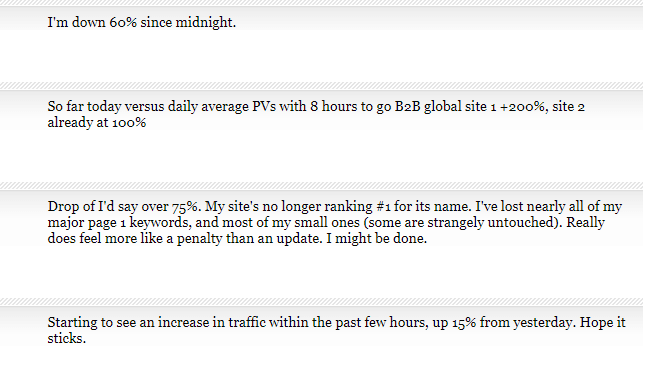 And that's not about some search trend shifts that shuffle the rankings of these people. Most of the dramatic changes happened overnight right after the new Google SEO update was rolled out. It is felt across an abundance of industries, with the following being affected most:
news
health
business and finance
entertainment
games
sports and fitness
food and nutrition
art
Evidently, YMYL websites (Your Money or Your Life) came off the worst post-update. They mostly operate in the medical, finance, and news industries. It's not a coincidence that they top the list above.
Along with YMYL pages, low-quality websites and those with irrelevant content took the hardest hit. Since the Medic update in August 2018, the search system has been reorganized with YMYL filters. And this May's one reinforces them to keep unreliable pages that can harm users or manipulate their decisions at bay.
On the other hand, some ecommerce websites, gaming platforms, and streaming services have benefited. However, it's impossible to accurately estimate gains or losses by industry. Most of the data is relative as you never know what else, except the update, might have led to the swings. But you can still take a peek at some examples.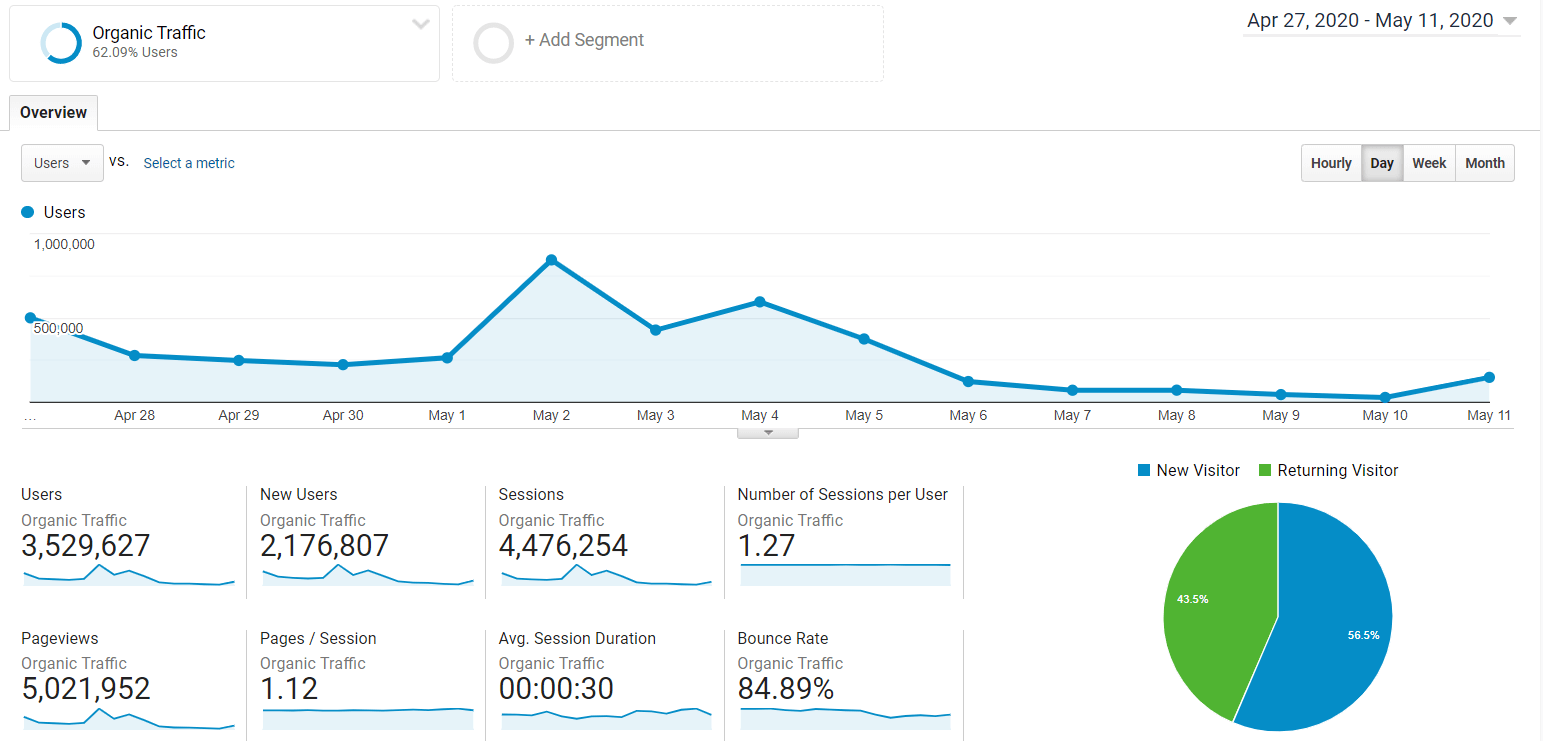 This news website (falling under the category of YMYL pages) has slid from its highest traffic point on May 2 to its all-time low on May 10. As you can see, it started suffering heavy losses just when the core update came into effect, going down from slightly above 500,000 a day at the time.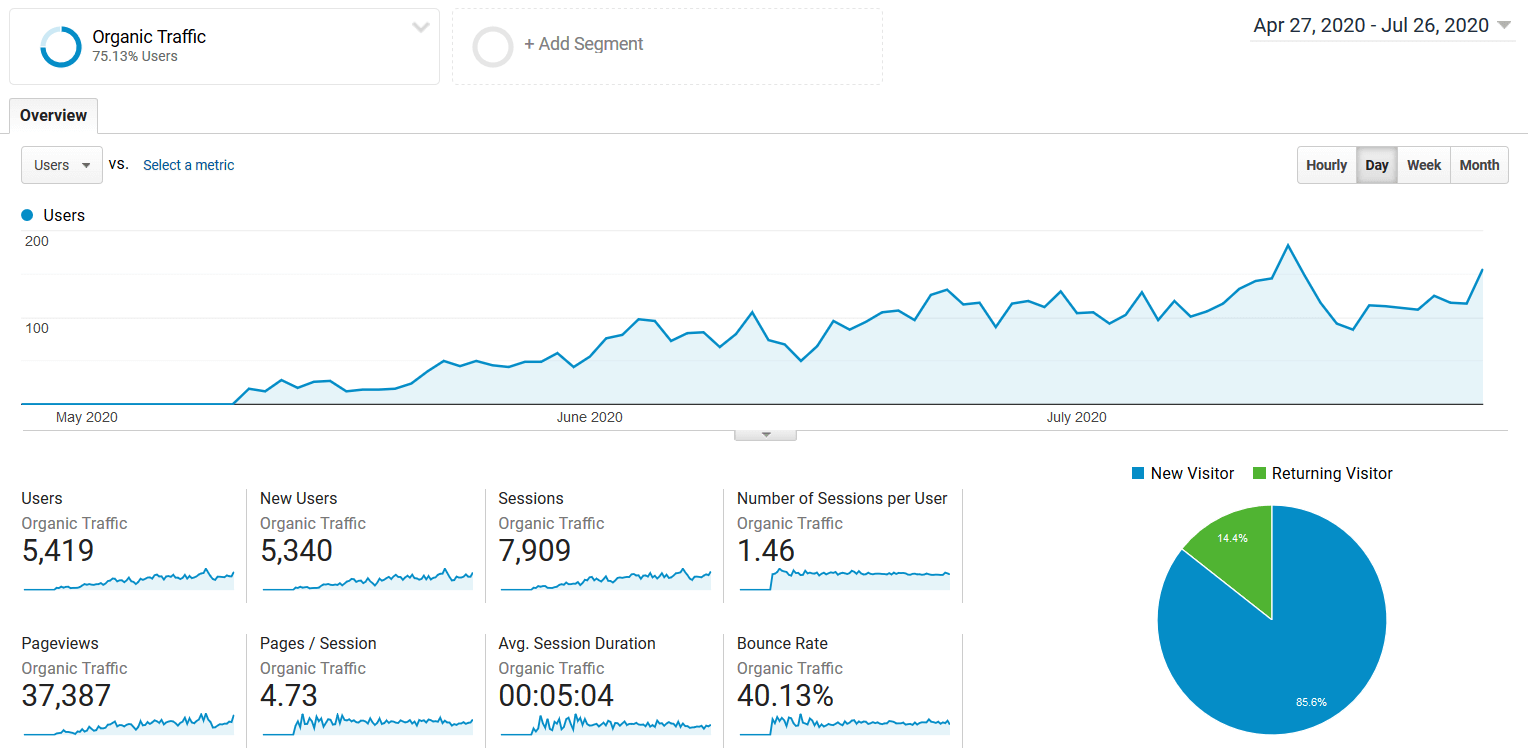 Meanwhile, some have ended up on the winning side, like this gaming website. Its post-update gains may not be impressive at a glance – until you take a look at its next-to-nothing traffic at the beginning of May. Three months later, it's still on the rise, with its peak performance reported in mid-July.
Plan B for those who have been affected

If you have found yourself on the losing side after Google's latest update, there are a few ways to go to bounce back:
First, you should keep in mind that SEO improvements made a week or so before the update may not be effective yet. It pays to continue to monitor your analytics to see how your site's performance changes. It may get back to its pre-update level in a matter of weeks or, in the worst-case scenario, until Google comes up with the next set of algo modifications.
The second strategy involves adopting a selective approach. If Google's May update 2020 has blazed the rankings of only some of your pages, it doesn't mean your entire website is at a disadvantage. Using analytics, determine what parts are affected and then touch them up, according to Google guidelines.
For a more surefire way out, you may want to team up with an SEO company. Knowledgeable specialists can pinpoint where you've failed to meet Google standards by conducting an in-depth website audit. They can analyze how the update has affected your rankings and outline a step-by-step recovery strategy.
Anyway, I urge you not to overreact to any fluctuations. Google has been releasing updates, big or small, over the years, and seasoned webmasters should have no difficulty adapting to them.
From my own experience, the best thing to do (after, before, or during a core update) is to concentrate your efforts on improving your site quality. Think of the SEO checklist as the starting point. Fix all the technical errors and examine the
Search Quality Raters' Guidelines
to make sure you meet them.
Next, your content comes into play. Check it for uniqueness and value, keeping the existing copy throughout your website updated. Whether your page is of the YMYL type or not, fill it with relevant content, as required by the E-A-T concept.
Putting it all together: Like other search algorithm updates, May's one requires you to give 110% to keep your website and content quality high. Do not bide your time to act. It's vital to adapt before your rankings come crashing down.
Ready to come back even stronger?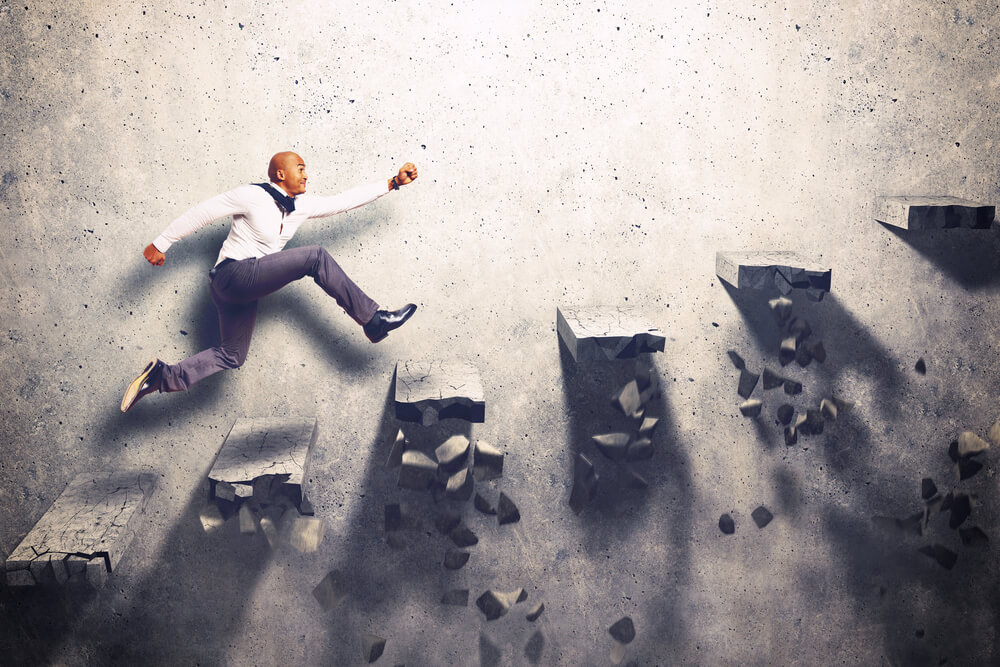 Bad days happen. But that doesn't mean you have to grin and bear it.
If this core update has exacted a terrible toll on your rankings, think of this as a practical hint that you need to keep going. Google is sure that your website could be better, so why not prove that it really can rather than lament it?
Start by requesting a
free SEO consultation
. Semalt will help you assess the update-related damage to your website and determine why your rankings have dropped in the first place.
After that, choose your best recovery strategy, like
FullSEO
. It's designed to whip your site into shape, no matter what this may involve (content touch-ups, link building for E-A-T, on-page SEO, etc.).
With Semalt, you can bounce back and harness your SEO so that the next core update can benefit you. Call +1-855-979-6663 or write at company@semalt.com to start working your way UP!