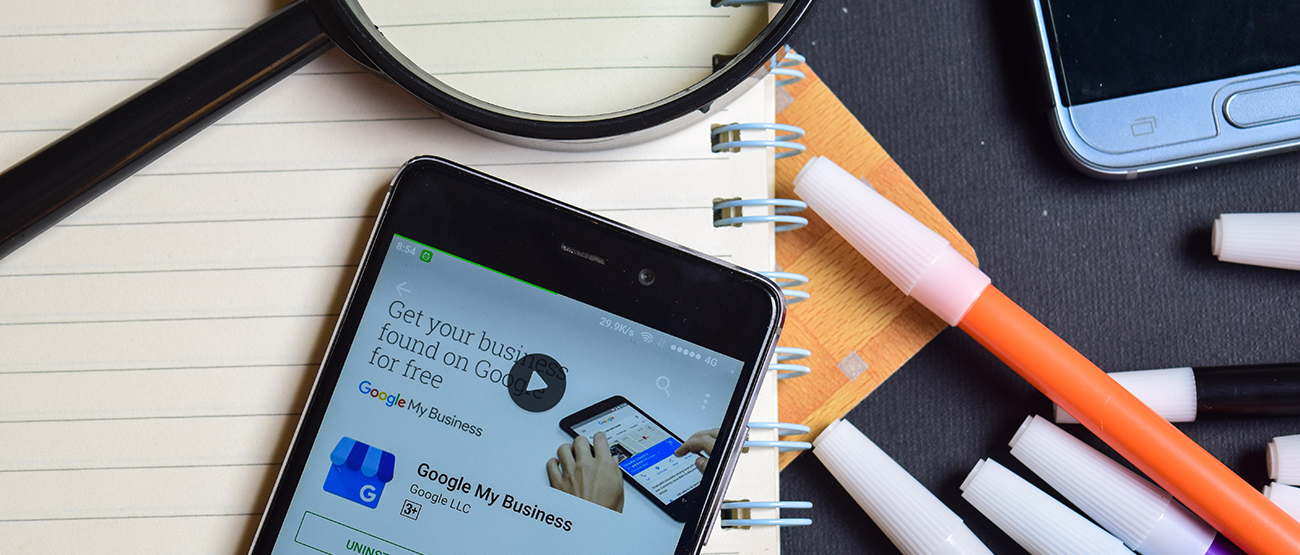 Here it comes…
Google My Business – the Master of local search and a sizable chunk of benefits for your business exposure.
It serves as a matchmaker keeping the gate between your company and your customers open as long as your business hours allow for.
If you still can't figure out how GMB works and why it's a harbinger of your success, this guide is for you.
Covering the basics: What is Google My Business?

GMB is both FROM Google and FOR Google.
In the simplest terms, it's a tool for online presence management that helps local businesses become easier reachable in search results.
Creating a Google Business listing is about giving your business information to consumers on a silver platter before they even find themselves on your website. GMB improves your exposure by having your contact and other details featured in the Knowledge Graph, Maps, and Local Pack.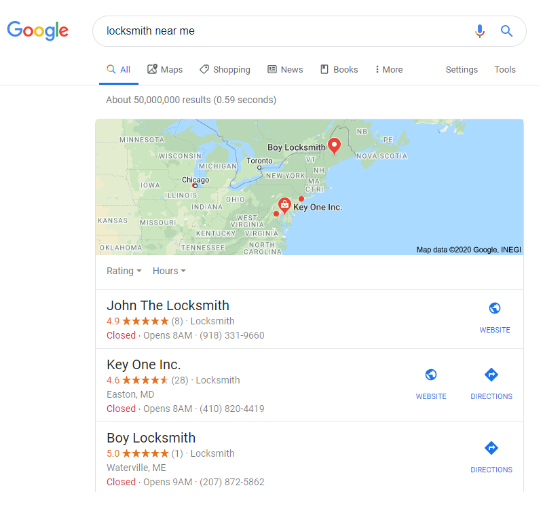 A word of SEO advice: The Local Pack shows only 3 businesses related to a user's query. Being one of them can make a difference in how new customers find you.
According to a recent
study
,
a whopping 75% of users view Local Pack
and other search results to find the right service provider nearby.
The remaining 25% prefer Google Maps
to those.
It just goes to show why utilizing Google My Business for local SEO is in your best interest.
But is it a must-have for all businesses?
The short answer is "No".
You can do without GMB when you're running a business that is not location-specific. In other words, if you own an online store without brick-and-mortar outlets, you're NOT the perfect candidate for a listing.
That said, all businesses that have real-world locations or provide on-site services should never miss out on GMB. Being listed there will boost their visibility in the area they operate. If you're looking to attract more guests to your restaurant or invite more students to your Java classroom courses, you now know what to do next.
Technically, deciding whether you need to claim a listing or not is a matter of what type of SEO you do. Learn more about the nitty-gritty in this
SEO guide
.
How to get your business on Google listings in 8 easy steps?

Like with any other Google tool, it doesn't take a genius to get started with GMB. Our heartfelt thanks go to those who have managed to make it so-o-o easy-to-use.
Turning more local search results into yours with GMB comes down to:
1. Sign up


Once you're ready, go to www.google.com/business and click Start Now to get your foot in the door.
Note: You should be logged into the Google account that is directly associated with the business you want to get listed in local search.
2. Company Name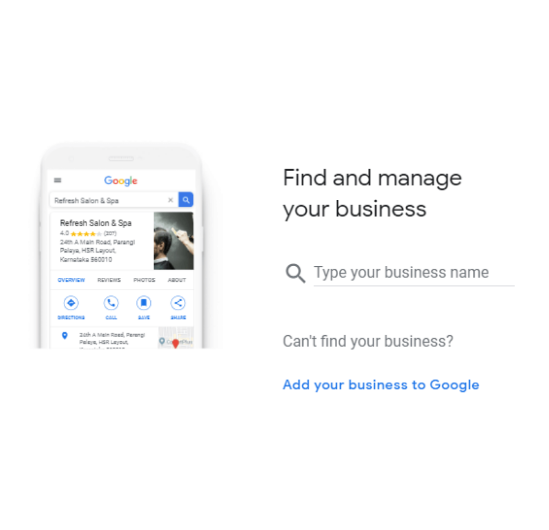 What now pops up is a field where you're supposed to enter the name of the company you're creating a Google My Business profile for.
If you haven't made this business on Google yet, you can add it at a click.
3. Business Category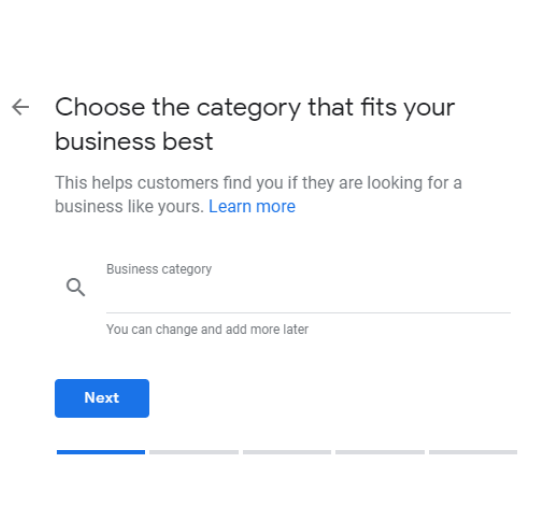 Although Google wants you to select one category out of available suggestions, make a smarter move.
In this field, be as specific as you can (e.g., go with Tuscan Restaurant rather than just Restaurant; choose Racing Car Parts Store over Parts Store).
It will be your primary category. But you don't want to stop here. Once you create a Google Business page, go edit it to add secondary or custom categories to stand out.
4. Range of Services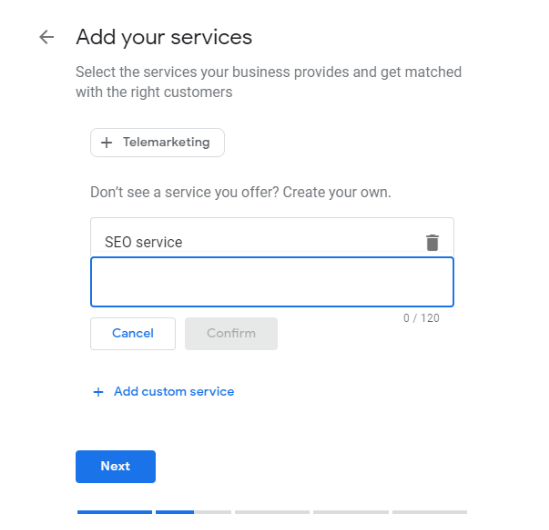 Add all the services your business provides. The more, the better.
Type everything you do to be displayed in relevant search results and help people who can benefit from your service find you.
5. Physical Location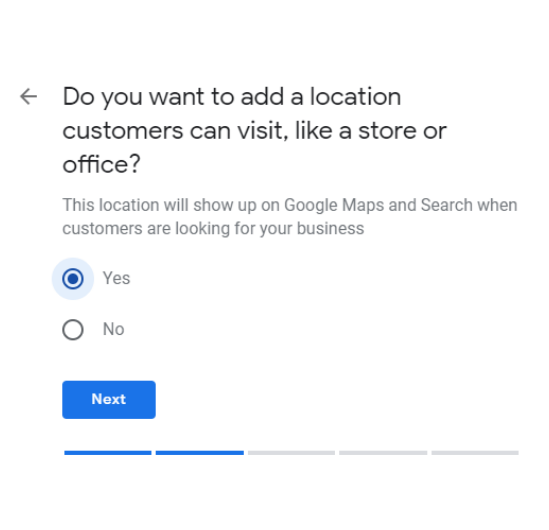 Remember me saying that GMB is for real-world businesses? I wasn't kidding.
Here you're supposed to add the address of your brick-and-mortar location. If you offer on-site services, however, you can hit "No" and then list the areas you cover.
6. Region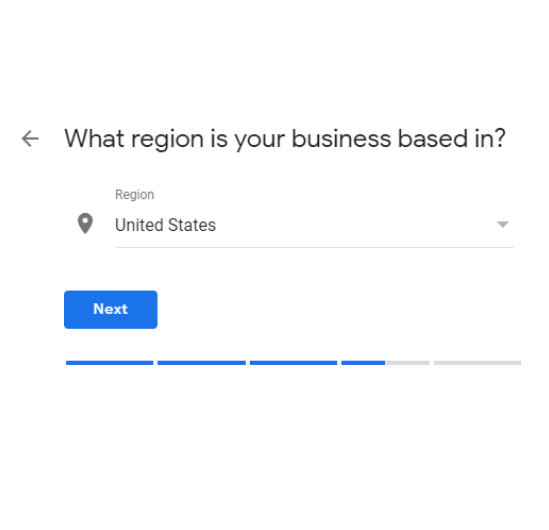 This one cannot be more straightforward. Just select the country you're headquartered in.

7. Contact Details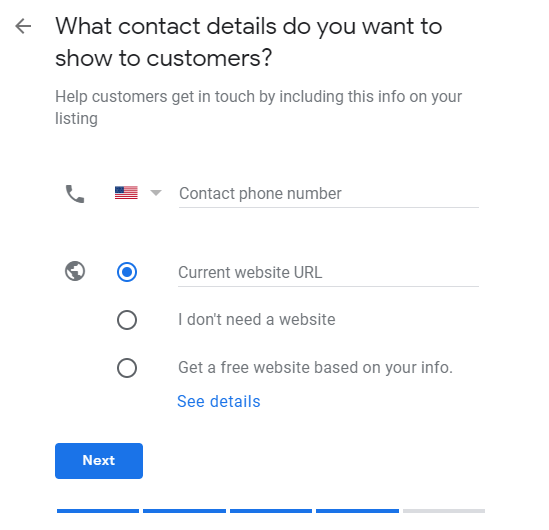 This step allows you to take the guesswork out of your customers' searching.
Do not overlook adding your phone number and website so that your contact details are always at their fingertips.
8. Verification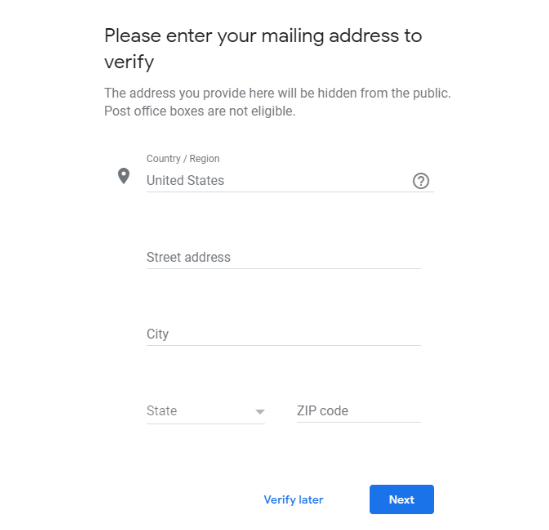 To get your listing ready, you need to verify it. This is the final step on your way to improved local exposure.
GMB verification options
You can't use GMB in its entirety unless you're a verified business owner or an authorized person.
To prove that you are, you can go for:
In most cases, you'll be offered to verify by postcard. You'll need to enter your mailing address so that Google sends you a unique 5-digit code. Upon the receipt of your postcard, enter it in the field that shows up after clicking Verify location in the bar on your left.
This takes less time, yet it's not available for all businesses. If there's the Verify by phone tab in your account, you're the lucky one. Click it, and Google will text you with your verification code in a moment.
Another option for the privileged. After adding the email address that is associated with your business, you may be able to request this type of verification. Your code will soon come in an email, waiting to be submitted.
Have you verified your website as your property in Search Console? The good tidings for you: you're likely to be offered instant verification in GMB. If you haven't, you can still use a postcard option and find everything you need to know in this article on
submitting websites to Google
.
If you're a large business (by "large" Google means "having more than 10 physical locations"), you don't necessarily have to verify each of them one by one. You may qualify for a bulk method, with all the locations previously added to the individual account.
Putting it all together: Verification is a finishing touch on creating a Google Business listing. Depending on your company type and category, your options may be a postcard, phone, email, instant, or bulk verification.
8 Things you can do right now to optimize your Google My Business profile

You're not under the illusion that you'll now rank #1 in search results for your area, are you? To "own" that local exposure, you have to optimize your listing first.
These 8 Google My Business tips will be the very thing:
1. Do the filling-in for your hours and phone number
Do your customers a favor by providing all your business info under the same roof.
Open your GMB dashboard and fill in the blanks until it looks complete. Start off by adding your business hours (including those for special occasions, holidays, etc.) and phone number (if you haven't added it when signing up).
A word of SEO advice: Be careful with your phone number, as well as your company name and address. As Google collects your business info not only from GMB but directory services and other resources web-wide, your NAP citations should never be different.
Be careful with your phone number, as well as your company name and address. As Google collects your business info not only from GMB but directory services and other resources web-wide, your NAP citations should never be different.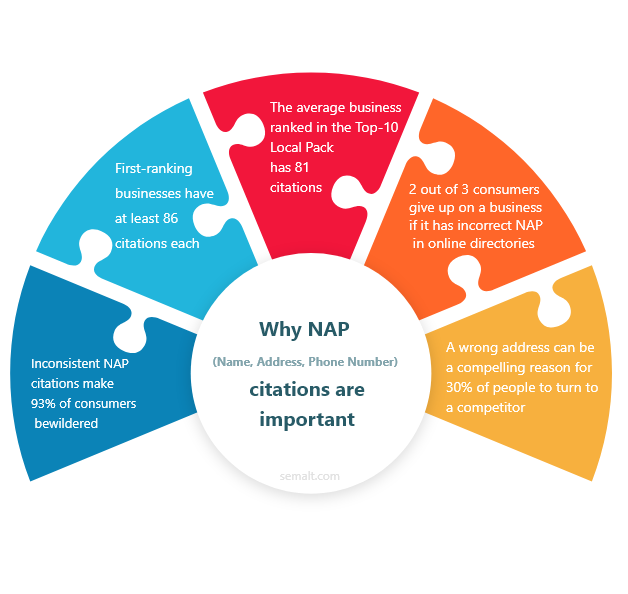 2. Describe your business to tell people more
Nope, you don't have to hire a storyteller to do this for you. Just hit the Business description tab to put down what your business is about in up to 750 characters.
Your description is one of the first things your customers will see about your company. Hence, it makes sense to reach out to them right here.
3. Make sure it's brimming with services and products
If you've created a listing as, for example, a plumbing contractor, how would people know whether you're up for emergency service? Or commercial plumbing?
That's where you need to be super-specific (again!). Enter everything you sell or provide in a clear-cut manner so that your customers better understand your business.
4. Add photos and videos to liven it up
GMB allows you to show how visiting your business feels like. Make use of high-quality logo pictures, cover photos, and videos to prove that your customers are in for a treat there.

What you want to know is that adding over 100 photos to GMB brings in a
520%-increase in calls
, on average. Sure, not all pics are Instagrammable. But if your listing is a hotel or a restaurant, they should be.
A word of SEO advice: When taking photos, try to capture everything from exterior to amenities and your team. Make sure they meet Google's quality and size requirements.
5. Let your customers text you
Who said you couldn't be any closer to your target audience? Enable GMB messaging to have a word with your customers. Real-time.
This feature is available straight from your dashboard. Once turned on, the Message button will appear next to your listing, enabling people to text you at any time. Before activating it, make sure you can reply within the first 24 hours because the failure to do so doesn't sit well with Google.
6. Publish your product posts
Are you contemplating adding new offers to your assortment? Google My Business Posts will make them more visible.
Whether it's some time-sensitive offer, a bundle of products, or specials, you can publish tailor-made posts for it in your listing. To complete the promotion, add CTA buttons and start converting.
7. Listen. Reply. Be responsive
Business reviews are all too weighty to disregard. This
research
fully explains why: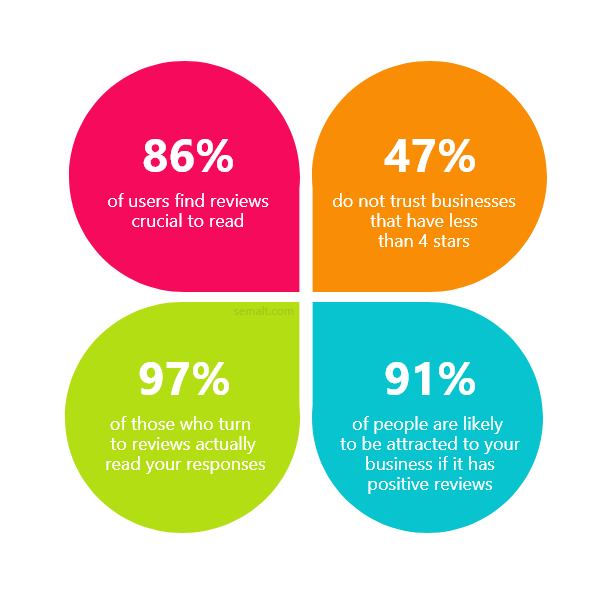 The key thing to remember: you can't afford to ignore reviews, positive or negative. Reply to all of them as promptly as you can. If it's not a "Thank You" review, try to minimize a confrontation risk and smooth things over with an apology. Be professional in everything you put down and avoid attacking the unsatisfied consumer. Even if you're right.
Most people appear reluctant to leave reviews. But you need those, so give them a nudge. Simplify everything for your customers by sending them emails with the link that goes directly to the Reviews page.
8. Leverage the Q&A feature

Think of it as FAQs on your website. That means you can provide answers to the questions people most often bombard you with right in your GMB listing.
Check back to your Q&A to ensure that users don't give any false information on your business as everyone can leave a reply there.
Putting it all together: Google My Business optimization doesn't require making heavy investments. You can get over the hump on your own by providing detailed info, adding photos, enabling GMB-specific features, and improving communication with your customers.
What do Google My Business Insights have in store?
Ever wondered why all business people trust numbers? Because they never lie.
Insights found in your GMB account is an ultimate roundup of your exposure improvement efforts expressed in numbers. This pile of data can make a difference in how you analyze your doings, and it should take its rightful place among your
free SEO tools
.
Here's what Insights help you track:
Types of searches that bring customers to your GMB listing
These are important for finding out what works and what doesn't. If people use queries with your business name, they go with direct searches. Whereas if they type a product that your company provides, and your listing eventually shows up, they hit discovery searches. Take a look at what stands behind your impressions most often.
How many people find themselves in front of your listing via Google Search and Maps

In your Insights section, you'll see Views on Search and Views on Maps tabs. The numbers there will help you determine what sort of impressions results in more potential customers for your business. You can also analyze views for a particular day.
Customer behavior once your listing turns up
You now know whether users have landed on your website, requested directions, or given you a call. For your greater awareness, GMB Insights come with more detailed Phone Calls and Direction Requests tabs.
What queries people use to find you
Do you have trouble doing keyword research? From now on, you won't. Insights deepen your understanding of the search queries people enter to find your business. You can combine them with
Semalt's Analytics
for more keyword suggestions to expand your customer base.
Putting it all together: GMB Insights help delve into your listing performance by providing information on search types, customer actions, views, etc. This data covers the results from both organic SEO and PPC.
The bottom line

If you do business at the local level and have a physical location to serve your customers, a Google My Business listing is just the thing for you.
You can claim it if you've been in business for years or create a new one if there's hardly any chance Google knows about you.
Remember to verify and optimize your listing. Add detailed information so that your customers can view everything they want to know about your business without actually lifting a finger.
Making just 8 steps wrapped up in this Google My Business guide is what it takes to become more visible. Or are you already in?
How does it feel like to have your "business card" on Google?
Feel free to share when you've created your listing and how you've optimized it.